Goal: Ontario Communities Support Children and Families
Supporting healthy, safe, hopeful and engaged children "takes a village." Children live in families, and families are part of communities. Strong communities break down feelings of isolation and build strong social bonds within and across diverse groups of people.
Outcomes we want:
#16 Ontario families are supported, engaged, and inform the decisions that affect them
#17 Ontario families know about and easily access high quality resources in their communities
#18 Ontario service providers, governments and communities foster belonging and wellbeing of children and families
Why it matters:
Family friendly communities create the conditions for children to thrive. Similarly, strong and stable children and families lead to strong and vibrant communities. A family's social connection can have a direct impact on children. Children whose parents are socially connected to their neighbourhood are less likely to experience challenges than those whose parents are not well integrated.
What Ontario is Doing
Ontario's After-School Program provides programming for over 22,000 children and youth to participate in fun, safe, supervised activities.
Children need opportunities to participate in quality programs, take part in solving challenges facing their neighbourhood, and build positive relationships with other peers and adults. Schools, recreation programs, cultural organizations, religious groups, health providers, community service providers and others need to work closely with each other and with families to create a network of opportunities that promote the wellbeing of children now and into the future.
Communities can help children and families thrive by ensuring they have equal access to programs and services, supporting community networks, and by giving them a voice in decisions that affect them.
Snapshot of Ontario:
A lot is happening in the life of a middle years child, and parents have many questions about how to best support their children's needs, and prepare them for transitions into the teen years. Parents learn from each other and build networks to connect locally with other parents.
What Ontario is Doing
The new Child, Youth and Family Services Act affirms Ontario's commitment to equity and inclusion, and seeks to address systemic racism and barriers.
In addition to the legislation, the ministry will support the implementation of the One Vision One Voice framework, developed by the Ontario Association of Children's Aid Societies in partnership with leaders from the Black community, to support culturally appropriate child welfare services for Black children, youth and families.
Many programs and services exist to support children and families in Ontario. These are delivered by different levels of government, non-profit organizations, foundations and the private sector. We have heard from families that they need help trying to find and navigate services for their children. They often start with the Internet, but get lost in the many services listed. We also know that some families face barriers to accessing services, such as cost or transportation. This may be of particular concern for parents of children with special needs.86
Efforts are underway to improve the service experiences of families across sectors by integrating services into a coordinated, seamless system. For example, through the Ontario Special Needs Strategy, the government is bringing together service providers from across sectors to ensure they are all working toward the same goals.
What Ontario is Doing
In 2015, the Ministry of Children and Youth Services launched a child and youth mental health directory on the Ministry of Health and Long-Term Care's Health Care Options (HCO) web portal. HCO includes more than 1,500 programs offering direct services to children and youth in Ontario.
#16 Ontario families are supported, engaged and inform the decisions that affect them
We know that well-connected families who have opportunities to meaningfully engage in their children's lives and their communities bring about improved outcomes for their children.
However, many families often feel disconnected from the institutions that are in place to support them and their children, and they are not as engaged in their community as they would like to be. Families often feel they do not have a voice in decisions that affect their children and struggle to have their voices heard.
For Indigenous families, a history of colonialism as well as their current experiences with the child welfare system often leads to distrust of "mainstream" community institutions and government services.
Supporting this outcome involves:
Building trust and empowering families to have a voice in how programs are designed and delivered
Families have told us they want to provide input into the way programs are designed and delivered in their communities. Families don't want to be just the recipients of services, they want to steer the ship in terms of what is happening for their children. Actively engaging families in how programs are designed and delivered builds trust. It also results in programs for children that are more relevant and accessible, and reflect the diversity of the children, families and communities.
What Ontario is Doing
In developing the new Ontario Autism Program, the Ministry of Children and Youth Services engaged parents through consultations and an OAP advisory council. One outcome of this engagement is the implementation of a direct funding option so families have the flexibility to determine the best services for their children.
Fostering family-centred approaches to the delivery of services for children
All children require strong and stable families to support their wellbeing and research shows that family involvement is a significant predictor of a child's long-term outcomes. Despite this, engaging families as a key part of a child's service plan is not always central to the design and delivery of programs for middle years children. Incorporating understanding and responsiveness to the needs and perspectives of parents and caregivers addresses the full context of a child's life. Family-centred approaches promote the active engagement of parents and caregivers by providing access to resources and supports, informed decision making, and delivering flexible and responsive service based on family priorities, strengths and needs.
What Ontario is Doing
The new Child, Youth, and Family Services Act (CYFSA) affirms and strengthens the rights of children and youth receiving services, including their right to have their views heard in decisions regarding the services they receive.
Talking to children about the importance of being actively involved in the decisions that affect them
Children also need opportunities to have a voice in their world. This is a prime time in a child's development to emphasize the importance of being productive citizens and contributing to society. Children need opportunities to contribute to things that could make a difference in their lives or the lives of others. They can be mentors to younger children, they can volunteer in community projects, and they can add their voice and ideas to the decisions being made in their schools, neighbourhoods and community.
How we can tell:
▲ % of children who are involved in volunteer work
▲ % of parents/caregivers who highly agree their child's school does a good job including them in their child's education
#17 Ontario families know about and easily access high quality resources in their communities
We know that communities that provide accessible, inclusive activities that are fun, active, and relevant to the diversity of children's lives can help children build the skills they need to set them up for success.
The middle years is a time when mental health, learning and behavioural challenges may begin to emerge. Unfortunately, families with the greatest needs report encountering biases and systemic barriers to service, with little support to help them navigate the system. These challenges and barriers are intensified for families living in poverty, newcomer, racialized and Indigenous families – who are often the families most in need of community support.
What Ontario is Doing
Through the Ontario's Special Needs Strategy, Coordinated Service Planning provides families of children and youth with multiple and/or complex special needs with a seamless and family-centred service experience through the support of a Service Planning Coordinator. A Service Planning Coordinator connects families with the services and supports that will meet their needs; develops and monitors a single Coordinated Service Plan responsive to their goals, strengths and needs; and works together with the child and family and all service providers and educators involved in the child's care towards a set of common goals. Coordinated Service Planning will help make service pathways clear for families, and will provide seamless referrals to services so that families only have to tell their story once.
Supporting this outcome involves:
Integrated service planning and delivery to prevent "wrong doors"
Local service providers work to build local infrastructure and networks to plan for and provide services that "wrap around" children and families. However, more could be done to clear pathways for parents/caregivers in the delivery of services. The government is taking a leadership role to support more integrated service delivery in provincially funded systems, as recommended in Community Hubs in Ontario: A Strategic Framework and Action Plan.
Culturally relevant and safe services
We know that children do better when services are specifically designed for their needs, and respond to their unique lived experiences, cultures and backgrounds. For example, this includes programs that are targeted based on race, ethnicity, culture and other communities of belonging including LGBTQ2S and special needs.
Children have access to safe spaces that provide quality opportunity for play and recreation
Families are looking for child-friendly spaces once the children outgrow the playground. Children need to be able to play outdoors in safe spaces, both in structured and unstructured activities. Children need open, age-appropriate, accessible, inclusive spaces where they can congregate, feel they belong, and have quality opportunities for play.
Family support networks
Families can be powerful resources for other families. They can be referral sources, knowledge keepers, support networks and champions. Yet families are often disconnected from each other. Children may attend the same program, but often there are few opportunities for their respective parents to network with one another. The local school community can provide a good avenue for parents to meet other parents, network and to connect along shared experiences or interests.
How we can tell:
▲ % of parents who indicate that their children have access to after school care
▲ % of parents who feel public facilities and programs for sports/recreation meet their child's needs
▲ % of children who feel that there are good places to spend their free time (e.g., recreation centres, parks, shopping centres)
▲ % of parents who are satisfied with the accessibility (cost/location) of opportunities to be active in their community
#18 Ontario service providers, governments and community organizations foster belonging and wellbeing of children and families
Strong communities are built on solid bonds that enable a sense of belonging for all. In turn, strong communities create social stability and unity and contribute to individual wellbeing. It is the responsibility of all of us – government, service providers, and community-based organizations – to ensure that our work is benefiting the wellbeing of all children, in particular the most vulnerable, and that all families feel they matter and belong.
Supporting this outcome involves:
Building communities where all children and families belong
Belonging is not just a feeling – it is a way to support wellbeing in children, and build healthier, safer and more unified communities. We know that people who feel they belong to a community are more likely to take action with others for the common good.87 We also know that a sense of community belonging is highly correlated with physical and mental health.lxxxviii A child's sense of belonging intersects with all aspects of their day-to-day life – at school, at the park, in after-school activities, and in the community at large. It helps children perceive life to be more meaningful, they are better able to learn, and their culture and identity can flourish. However, some children and families such as newcomers, Indigenous, racialized, LGBTQ2S, and others face discrimination, social exclusion or isolation. All of us in Ontario need to do our part to address these issues and build strong and resilient communities that support wellbeing for all children.
Services are responsive to diverse needs
In Ontario, we expect all provincially funded programs and services to be delivered in a culturally relevant and responsive manner and respond to the diverse needs and identities of children. We expect that children with special needs will have access to targeted programs that support them and help them achieve, build friendships and feel connected to others. We expect that children from diverse communities can express their personal identities, and feel their cultures are recognized and valued. We expect that Francophone communities can access programs offered in French. We expect that Indigenous children and families will receive culturally relevant and responsive programs and services. We expect that children feel safe in their gender identity and are encouraged to explore their interests and goals in an environment without gender bias.
What Ontario is Doing
The Family Well-Being Program provides funding to provincial Indigenous organizations, Metis, Inuit, First Nations and urban Indigenous communities to support the delivery of programs and approaches to address family wellbeing for Indigenous children, youth and families in diverse communities across Ontario.
Building respectful relationships with Indigenous organizations
Indigenous children, families and communities benefit when service providers, governments and other allies commit to learning from the approaches of First Nations, Métis, and Inuit communities and Indigenous organizations and respect the best interests of their children, as defined by community and individual needs and priorities. Through the Ontario Indigenous Children and Youth Strategy, we are working to build lasting relationships that uphold shared accountability, Indigenous decision making, and self-determination and partnership. We are also committed to providing culturally relevant services that are driven by and responsive to local needs and priorities, and measuring impacts in ways that are culturally relevant, responsive and safe.
How we can tell:
▲ % of families who are satisfied with health care in their community
▲ % of children who would speak to a school social worker, counsellor, psychologist, nurse or other school staff if they needed help for concerns regarding their mental health
---
Spotlight: Communities Support Children and Families
Girls Inc. Limestone delivers programs to assist girls in overcoming and avoiding adversity, living healthy and active lives, developing strong self-confidence, and setting education and career goals to strive for future self-sufficiency.
Girls Inc. serves more than 1,400 girls each year. Programs for girls ages 6-12 are delivered in the healthy lifestyle after-school program, in school and community groups for girls, and free summer day camps.
The comprehensive, research-based programming effectively addresses the issues faced by girls today. It includes self-defence and personal safety, media literacy, relational aggression and bullying, economic literacy, sports and motor skills development, science, technology, engineering and math, healthy sexuality, and community leadership.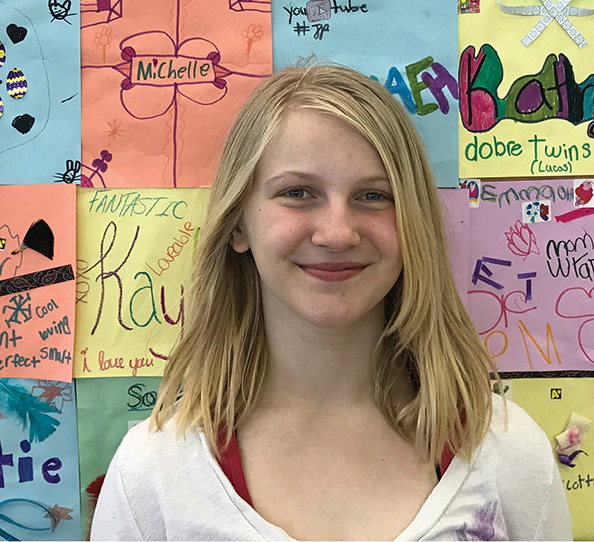 Photo: Girls Inc. inspires all girls to be strong, smart and bold, and advocates for an equitable world.
"Percephony looks forward to the program every day and gets mad when there are snow days because she can't go. Even when she's had a bad day at school, she always looks forward to going to Girls Inc. She loves it there." Percephony's mother