Goal: Ontario Children Engage in Learning
We want all children to feel motivated, supported and encouraged to learn. Flexible, experiential, inclusive, and strengths-based learning environments that respond to individual learning needs can help shape a lifelong love of learning for children of all abilities, and from all backgrounds.
Outcomes we want:
#10 Ontario children are curious and love to learn
#11 Ontario children have relevant learning experiences that address their diverse interests, strengths, needs and abilities
#12 Ontario children gain the knowledge and skills they need
Why it matters:
Learning takes place in all environments, every day. School staff, families, coaches, before- and after-school providers, recreation leaders, Elders, Senators, traditional knowledge keepers and community members and others all have a role to play. Inside and outside of school, children need to feel a sense of accomplishment, and to develop social and emotional competencies, and develop confidence as learners. They need help and support in becoming critical and informed young citizens and lifelong learners. They need to learn respect for themselves and for others, and they need to learn to embrace the core values of diversity, equity and inclusion. They also need supportive learning environments that value them and accept them for who they are.
Experts say children begin to envision their "future selves" around ages 7–10 years old. This developmental window is a time when children should start reflecting on what they are good at and what they want to do when they grow up, and they need to be supported in doing that. Exposing children to diverse career options and supporting them to develop a sense of "agency" or control can help empower them to take charge of their learning journey now and into the future.
Snapshot of Ontario:
Approximately 1.4 million children (Kindergarten to Grade 8) attend Ontario's 4,000 publicly funded elementary schools. We recognize that strong literacy and numeracy skills lay a critical foundation for academic achievement and for a lifetime of success. In Ontario, 72% of elementary students are meeting or exceeding the provincial standard (equivalent to a B grade) in reading, writing and math.79 Yet some children are falling behind in these early grades.
The Ontario education system recognizes that children's wellbeing contributes to their ability to learn in all disciplines, and that learning in turn contributes to their overall wellbeing (Achieving Excellence: A Renewed Vision for Education in Ontario). 80 Educators are taking students' wellbeing into account when planning instructional approaches. Educators also recognize that supporting and promoting wellbeing goes beyond the curriculum. It requires creating opportunities to build positive relationships, centred on caring and supportive relationships with adults and students in the school environment. It requires schools to be inclusive learning environments, so students feel they belong and differences are accepted and valued. It also means empowering students to have a say on how to support their own wellbeing and their own learning journey.
In an environment based on the principles of inclusive education, equity and diversity is valued, and all members of the school community feel safe, comfortable, and accepted. Every student is supported and inspired to succeed in a culture of high expectations for learning. In an inclusive education system, all students see themselves reflected in the curriculum, their physical surroundings, and the broader environment, so that they can feel engaged in and empowered by their learning experiences (Learning for All: A Guide to Effective Assessment and Instruction for All Students, Kindergarten to Grade 12).81
#10 Ontario children are curious and love to learn
In the middle years, children begin to take on the characteristics most important for learning – curiosity, creativity, imagination, cooperation, confidence, and enthusiasm. Their minds are opening to the wider world. We want children to be happy to go to school and feel excited about learning. Supporting children to feel joy in learning can set them up for success and a lifetime love of learning.
Supporting this outcome involves:
Motivating children and instilling a love of learning
A child's perception of learning is influenced by relationships – friends, families, extended families, school staff, Elders, Senators, traditional knowledge keepers and community members and other caring adults. These networks can help promote a love of learning and sense of connection to school. Another important way to build enthusiasm for learning is to create healthy conditions for children to learn. Physical exercise, plenty of sleep, healthy nutrition, and limited screen time all result in the brain being wired and primed for learning.
Helping children set realistic goals so they feel happy and confident about their achievements
Helping children feel good about themselves as learners means finding opportunities for them to feel proud of their achievements, in and outside of the classroom. Children need to be recognized for all types of achievement, such as when they help a friend with a challenge, improve a skill, make a healthy choice, or learn something new that sparks interest. Overcoming obstacles can also help them build a sense of achievement. Teaching children to value all aspects of their personal, emotional, social, academic or extracurricular achievement helps to build happy, balanced learners.
Making school a place where children want to be and where they belong
Healthy, inclusive and safe school communities are places where children want to be. They are fun, respectful, and promote healthy behaviours. They give children space to socialize, have quiet time, and find resources to address a range of needs. Across Ontario, school boards are focusing efforts on the "school climate" and the importance of wellbeing in the learning process. School boards are also focusing efforts on appreciating diverse cultures, balanced power dynamics between students and school staff, and learning environments where students feel accepted, valued and acknowledged.
How we can tell:
▲ % of children who really like school
▲ % of children who like to read
▲ % of children who enjoy mathematics
▲ % of children who feel that they belong at their school
#11 Ontario children have relevant learning experiences that address their diverse interests, strengths, needs and abilities
Research shows that children's success in school is linked to their willingness to engage in tasks, and this is influenced by their interests.82 Learning experiences need to be interesting, relevant, and respond to a range of contexts, cultures, backgrounds, and abilities.
Supporting this outcome involves:
Flexible and supportive learning environments
In order to learn, children need opportunities to move around, be active, try out new things and have hands-on activities. We know that all children benefit from learning in an environment where they can use all their senses to explore and play. Children also need opportunities to explore their personal and cultural identities freely. The use of technology, for example through Blended Learning, can be used to support students with a variety of learning needs. Blended Learning is a combination of face-to-face and online learning.
What Ontario is Doing
The Ontario education system has a process for identifying and supporting children who require special education programs and services. In the 2014–2015 school year (the most recent figures available) more than 340,000 students, or approximately 17% of the total student population, were provided with special education programs and services.
Early identification and support for children with special needs or learning challenges
We know that all children benefit from tailored supports in school. Children with special needs may face unique challenges in learning. For children identified with special education needs, individualized programs, supports and/or services are essential for them to succeed in school. By providing early and ongoing assessments and interventions, we can respond to their unique learner profiles of strengths and needs and set them up for success. Children with special needs may also need support and opportunities to build social and emotional competencies, to help them form close friendships and support their overall wellbeing inside and outside of the school environment.
What Ontario is Doing
The Ministry of Education is leading an Indigenous Education Strategy to improve Indigenous students' educational attainment from Kindergarten to Grade 12, and support their transition to postsecondary education, training or the workplace. The ministry is also working with Indigenous partners to revise the Ontario curriculum to include mandatory teaching about treaties, the history of residential schools and the legacy of colonialism.
In addition, the First Nations, Métis and Inuit Connections Scope and Sequence: Kindergarten to Grade 8 (2016) Resource Document assists educators in providing students with learning opportunities about Indigenous histories, cultures, and perspectives across all subjects and grade levels.
Learning opportunities reflect student realities and new perspectives
All children should see themselves, their families and their cultures reflected in their learning. This means breaking down assumptions and biases and exposing children to the full diversity of cultures, gender identities, races, religions, and experiences. This could include showing women in "non-traditional" positions or Indigenous people in leadership roles. It could mean inviting artists, athletes, traditional knowledge keepers, architects, gardeners or Indigenous storytellers to talk about different lived experiences. This provides examples for students of all backgrounds and reinforces the notion that the definition of success is different for everyone. It is particularly important that children in Ontario learn about the histories of Indigenous peoples in a way that recognizes the strengths and values of Indigenous cultures, as well as the impact of colonization.
What Ontario is Doing
The Ministry of Children and Youth Services is investing in a network of "postsecondary education connectors" to conduct culturally relevant, community-based outreach to Black children, youth and parents/caregivers in order to increase access to postsecondary education.
Children are supported to develop confidence and pride in their abilities
Children need opportunities to build their own sense of agency, to be good at things, to work through challenges, and to explore different interests. Children in the middle years are primed to make connections between what they learn, their world, and what they hope for the future, and to develop the kind of confidence and pride in their abilities that will set them on a positive course.
How we can tell:
▲ % of children who feel they can get extra help at school when they need it
▲ % of children who feel their teacher accepts them as they are
▲ % of children who regularly take part in a school club or group
#12 Ontario children gain the knowledge and skills they need
In the middle years, brain development is accelerating and many changes occur. It is a time when a child's brain is fine-tuned for learning. Children are geared up to combine ideas into new information, make informed decisions, communicate effectively, and thrive in their own communities and the ever-changing global world. For children to want to learn, they need to be interested in what they are learning, feel it is relevant to their lives, and have opportunities to apply knowledge and skills inside and outside of the classroom.83 They also need opportunities to develop social and emotional competencies.
Supporting this outcome involves:
High quality learning opportunities inside and outside of school
Children need high quality opportunities to learn, apply and build on their social, emotional, physical and cognitive skills, as well as their experiences in their environment. Children need to be able to connect what they learn at school with their lives at home and in the community including after-school programs, recreation programs, cultural activities, and other extracurricular activities, and they need to use their newfound knowledge and skills in their relationships with peers and families.
Learning through play, inquiry and exploration
During the middle years, basic academic skills and aptitudes such as reading, writing, telling time, math and computing develop and are strengthened. Children use creative, imaginative and practical thinking to find solutions to problems. Attention spans and the ability to concentrate on tasks vary. Evidence shows that children learn well through play, exploration, and inquiry as well as through reflection on what they are doing and what they want to accomplish.
What Ontario is Doing
Through Ontario's Renewed Math Strategy, the Province is investing in intensive supports for children and schools where learning needs are higher. It will draw on culturally relevant and responsive curriculum to support French-language students and First Nation, Métis and Inuit students, as well as more precise instructional strategies for children in care and students with special education needs.
Achievement in relation to their individual potential
Children thrive when faced with high, yet realistic, expectations that challenge them to strive to achieve goals, and also allow them to feel a sense of accomplishment. Every child deserves the opportunity to feel pride in a task well done. Experts talk about the importance of "mastery" of a skill to instil a sense of confidence.84 At this age, mastery should be relative to each child's ability. Expectations for children should be clear, achievable, and measurable, so children have the opportunity to take pride in their own abilities.
How we can tell:
▲ % of Grade 3 students who are at or above the provincial math standard
▲ % of Grade 3 students who are at or above the provincial reading standard
▲ % of Grade 3 students who are at or above the provincial writing standard
▲ % of teachers that implement a social and emotional learning program
▲ % of children who enter Grade 1 ready to learn
---
Spotlight: Helping Children Engage in Learning
The Children's Book Bank is dedicated to the principle that learning to read is the right of every child. Since 2008, the Children's Book Bank has been distributing free, gently used books to children and their families who face numerous barriers to purchasing new ones, while its engaging programs positively contribute to literacy development for those with the greatest need.
A visit to the storefront, located on Berkeley Street in the Regent Park-St. James Town neighborhood, is much like a visit to a favourite children's bookstore, except that the books are free. Staff and volunteers sort through and organize a large inventory of beautiful books suitable for children from birth to age 12 and arrange them in the Children's Book Bank's welcoming space. Families and caregivers with children are encouraged to visit as often as they like, and every person is welcome to choose one book to take home each visit. The staff and volunteers are literacy experts who enjoy providing advice about selecting appropriate books.
Every month, the Book Bank distributes over 5,000 books to help support the programming at literacy centres including Albion Neighbourhood Services in United Way's Rexdale Hub; Macaulay Child Development Centre in the Eglinton Humber area; East York East Toronto Family Resources in the Ontario Early Years Centre in the Crescent Town Hub; Thorncliffe Neighbourhood Office in the Ontario Early Years Centre. Other partnerships include Robertson House, The Native Women's Resource Centre, Parents for Better Beginnings and the Yonge Street Mission. In 2016, The Children's Book Bank gave away 120,000 donated books. By recycling books that might otherwise end up in landfill, the Book Bank also contributes to a more sustainable future for all.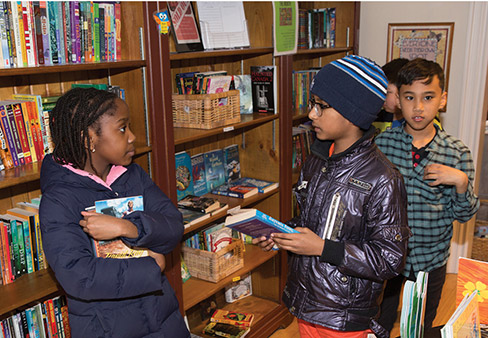 Photo: Children checking-out books from the Book Bank get to take them home, keep them, and share them with others.
---
Spotlight: Ensuring Equity in Ontario's Education System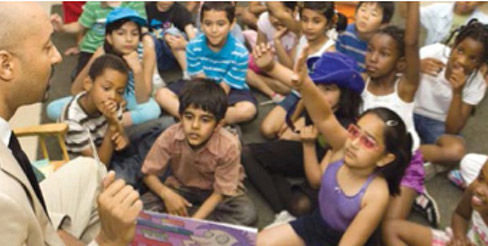 In September 2017, Ontario launched its Education Equity Action Plan to serve as the province's blueprint for identifying and eliminating discriminatory practices, systemic barriers and biases from schools and classrooms. This action plan will build on the ministry's 2009 Equity and Inclusive Education Strategy, bringing new focus and resources to bear as a means of accelerating our progress.
The action plan will unfold over three years – beginning with the 2017-18 school year – and bring together parents, educators, principals, board staff, trustees and community leaders who will bring it to life.
The key components of Ontario's Education Equity Action Plan include enhancing:
School and classroom practices by ensuring that they reflect and respond to the diversity of all students and staff.
Leadership, governance and human resource practices by ensuring that the diversity of the teachers, staff and school system leaders in Ontario schools reflect the diversity of their students, and that those education leaders are committed to equity for all learners and to upholding and promoting human rights.
Data collection, integration and reporting by collecting and analyzing demographic data to gain a clearer understanding of who Ontario's students and staff are, which will enable our school and system leaders to more precisely address the barriers to student success through data-informed decision-making.
Organizational culture change by applying an equity, inclusion and human rights perspective to the Ministry of Education's internal organizational structures, policies, programs and practices. The Ministry of Education will become an example of diversity, equity, and inclusion, and demonstrate our commitment to upholding and promoting human rights.
Ontario's vision for education is about creating the best possible experience for staff, educators and students. The result of this work will be positive learning environments where student achievement, well-being and equity are the top priority.