Goal: Ontario Children Feel Valued
Every child in Ontario deserves to grow up happy, safe and valued. Children need to be supported in exploring and expressing who they are as individuals, and to feel they matter as members of their family, school community, broader community and the world.
Outcomes we want:
#13 Ontario children are discovering who they are and who they want to be
#14 Ontario children are proud of their cultures and identities and live free from discrimination
#15 Ontario children can express what matters to them
Why it matters:
Over the course of the middle years, a child's concept of "self" and "spirit" develops dramatically. Children begin to gain a more complex understanding of who they are, their sense of purpose and what matters to them. As they grow and develop, they begin to examine themselves inwardly and more abstractly, and they have a growing sense of themselves as autonomous individuals, as well as their place in their families and communities. As a child's identity is taking shape, they need support to feel and express pride in their culture, language, religion, ethnicity, unique abilities, and gender identity.
Snapshot of Ontario:
Middle years children growing up in Ontario are exploring their intersecting identities – including their gender, culture, race, ethnic and religious identities, as well as their personal interests and beliefs. Children need safe spaces and encouragement to explore all aspects of who they are and who they are becoming. Experiences of racism, homophobia, Islamophobia, antisemitism, discrimination based on disabilities and other unacceptable forms of intolerance have long-lasting negative impacts on the social and emotional development of children, break down families and communities, and perpetuate disparities in outcomes for different population groups.
What Ontario is Doing
A Better Way Forward: Ontario's 3-Year Anti-Racism Strategic Plan targets systemic racism by building an anti-racism approach into the way government develops policies, makes decisions, evaluates programs, and monitors outcomes. It calls for a proactive, collaborative effort from all government ministries and community partners to work toward racial equity.
Despite efforts to create safe and inclusive schools, community organizations, and neighbourhoods, racism and other forms of discrimination still exist. Structural inequities in our systems were established long ago and continue to shape the present. For example, systemic racism can lead to the over-representation of racialized, Black and Indigenous people in the child welfare and the justice systems. Whether through direct acts or hidden biases, on an individual or institutional level, racism affects children and families across the province.
The implementation of anti-discrimination principles in education influences all aspects of school life. It promotes a school climate that encourages students to work to high levels of achievement, affirms the worth of all students, and helps students strengthen their sense of identity and develop a positive self-image. It encourages staff and students to value and show respect for diversity and inclusion within the school and in the broader community.
#13 Ontario children are discovering who they are and who they want to be
During the middle years, children are beginning to explore the many facets of who they are as individuals, as well as their intersecting social and cultural identities. They need to be able to do this in safe and supporting environments. This is an important time to encourage and help children to explore a wide variety of potential future "selves" related to their goals for education, physical activities, community involvement, the environment and career.
Supporting this outcome involves:
Children need exposure to a wide range of opportunities and activities
During the middle years, children are deepening their sense of their own competencies – what they believe they can achieve. They need to be supported to develop social, physical, and academic competencies, along with pride and confidence in those abilities. This requires opportunities for them to explore new activities, reach higher levels of performance, and receive positive feedback from parents, peers, mentors, cultural role models and school staff.
Children need to feel safe and supported in exploring their identity
Children need support to develop their own set of values and to have opportunities to express them in safe and accepting spaces. Adults (family, extended family, educators, school staff, mentors, Elders) should encourage children to ask themselves questions like: "Where did I come from? What are my dreams for the future? What are my strengths? What do I need to work more on? What do I value? What do I want to do? What things can I have a say in?" Children from diverse backgrounds need encouragement and safe and accepting spaces to explore and express their cultural and personal identities.
Monitoring social media to restrict negative images
In part because of social media and other mass messages, children often struggle with maintaining a positive image of themselves. Images and ideas on social media are often beyond the maturity level of children in this age group. They are increasingly exposed to age-inappropriate sexualized online content without the tools to understand what they are seeing and what to do about it. Parents and other caring adults can play a role in monitoring the social media content to which their children are exposed and having open, honest discussions about any negative or stereotypical images
How we can tell:
▲ % of children who say they have confidence in themselves
▲ % of children who participate in art, music or drama activities outside of school
▲ % of children who are involved in community groups
#14 Ontario children are proud of their cultures and identities and live free from discrimination
Research shows that connecting with culture can help children make sense of the world, develop a sense of purpose and meaning, find balance and deepen their interactions with family, extended family and community. Culture can also protect against risk factors such as mental health issues, family breakdown, and social isolation.85 Protecting and promoting culture is particularly important for First Nations, Métis and Inuit children, as it is central to their wellbeing and identity.
Identity is multi-faceted and intersecting and includes elements that are personal, social, spiritual and cultural. It includes many different aspects of who we are as people and what our experiences are in the world. It can include family and cultural heritage, religion, gender identity, race, sexual orientation, and special needs. It may include belonging to a specific cultural or linguistic group, including the Francophone community or Deaf culture.
All children deserve to be able to safely and confidently express their many identities and cultural realities as they come to deepen their understanding of who they are as individuals, as members of their family, culture, communities and broader Ontario and Canadian society.
Supporting this outcome involves:
Empowering children to connect to their cultural heritage
We want children to feel grounded in their cultural backgrounds and supported to express their cultural identities. For this to happen, children need opportunities to express themselves and connect with their language, cultural traditions and ceremonies, and to see positive reflections of their cultures in their school, community, media and society at large. In particular, there is a need and responsibility to support Indigenous children and families to deepen their connection with Indigenous languages and cultural traditions.
What Ontario is Doing
Ontario is working with First Nations, Métis, Inuit and urban Indigenous partners and organizations to co-implement the Ontario Indigenous Children and Youth Strategy, which will improve outcomes and opportunities for Indigenous children and youth. The Ontario Indigenous Children and Youth Strategy will enable community-driven, integrated and culturally appropriate supports for First Nations, Métis, Inuit and urban Indigenous children, youth and their families, particularly preventative services focused on wellbeing, culture and opportunities that can better meet their needs.
Enabling children to explore, experiment and feel pride in their multiple identities
Children are curious, questioning, and exploring during this time and need a safe space to talk about, understand and take pride in themselves. As children in the middle years deepen their understanding of who they are, and the intersectionality of their identities, they are also becoming increasingly aware of social power dynamics. Children may face discrimination, bullying or other forms of social exclusion and these issues need to be addressed. Adults (teachers, school staff, mentors, community leaders) need to take a leadership role to create safe, inclusive spaces and talk to children about the importance of diversity and inclusion.
Supporting children to stand up against discrimination
This is a prime time for families, schools and cultural leaders to engage children in discussions about racism, discrimination, injustice and inequity. It is a time to teach children to be advocates for themselves and their peers. Children need to be empowered to stand up against various forms of discrimination, including racism, anti-Indigenous racism and anti-Black racism, sexism, transphobia, homophobia, Islamophobia, and antisemitism. We all are responsible for acknowledging and valuing the diversity of all members of our society, and upholding human rights in our province and our country.
How we can tell:
▼ % of children who are treated badly or differently at school because of their race, ethnicity, colour of skin
▼ % of children who are treated badly or differently at school because of their gender identity or sexual orientation
▲ % of children who feel other children accept them as they are
#15 Ontario children can express what matters to them
Children have values, opinions, and feelings about issues in the world around them and are experimenting with how they express themselves as individuals and as part of a group.
By the middle years, most children want a bigger role in decision making, and to have their opinions heard. They have a lot of ideas and need a voice in determining how things are done. Building confidence in children means listening to their ideas and finding opportunities for them to make decisions and have an impact. It helps when children are empowered to set priorities at home, at school and in their communities.
Supporting this outcome involves:
Supporting children to express ideas and opinions
Children are developing the capacity for more complex thought and ideas. They should be supported to experiment with ideas and engage in conversations with family, extended family, and other adults. Research shows the importance of families eating dinner together and carving out time for these conversations. Take the time to explore the ideas that children are expressing. Ask what matters to them and give them the space to discuss their opinions.
Helping children think about and get involved in the "big issues"
In the middle years, children are becoming more connected with the broader community. This is an opportune time for them to learn about civic engagement and get involved in their communities through volunteerism, participation in social and cultural networks, and being a good neighbour. To put this learning into practice, communities and schools can provide children with opportunities to volunteer and participate as leaders in their community. Some middle schools have student councils, so children can get involved in their school. The concept of service to community is an important developmental milestone for middle years children, and in particular, this is an important concept in Indigenous communities.
What Ontario is Doing
Through Ontario's Citizenship Education Framework, children are given opportunities to learn about what it means to be a responsible, active citizen, both in the classroom and in the diverse communities to which they belong within and outside the school.
Encouraging appropriate opportunities for independence and having a voice in decisions that impact them
During the middle years, children are building increasing independence and autonomy from their parents. Research tells us that this process is both normal and healthy. By helping children to safely build independence from their parents in an age-appropriate way, we can help them develop into independent young people, feel a sense of agency and think critically about their role as community members, leaders, and citizens.
How we can tell:
▲ % of children who have someone in their family who listens to them when they speak
▲ % of children who feel they are encouraged to express their own view in their class(es)
---
Spotlight: Helping Children Feel Valued
Autism Ontario's Summer Camp and March Break Camp give children with Autism Spectrum Disorder (ASD) the chance to participate in fun skill-building activities outside of school. At the camps, kids have a chance to go bowling, swimming, and skating. They get to play music and participate in arts and crafts programs.
Through support from the Ministry of Children and Youth Services, families are able to hire workers to give their children one-to-one support so that while their children are at the camps, parents can relax knowing their children are well cared for, safe and happy. Children and youth with ASD are eligible for these funds until their 18th birthday.
The program receives frequent praise by parents, who appreciate the chance for their child to attend camp. During the summer of 2016, more than 2,800 children and youth with ASD attended summer camps. In March 2017, more than 2,000 children and youth participated in March Break camps across the province.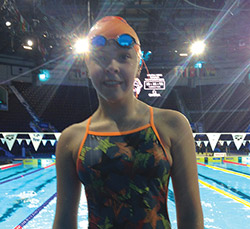 Photo: Having fun at the summer camp
"We as a family cannot wait for Bianca to attend swim camp this year as she will learn life skills. We are so grateful for this program. Thank you for this amazing opportunity!" Bob, Anna, and Bianca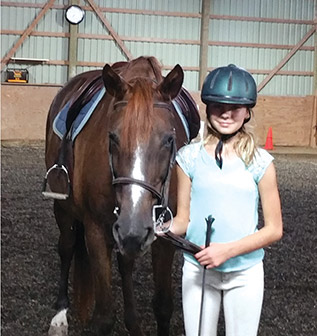 Photo: Learning to ride horses at the March Break camp
"Willow had a good March Break. Thank you so much for the support. I had a bad car accident and this was such a help in getting Willow out and giving me some needed rest." Janet S., Willow's mother