Supporting Development in the Middle Years
The first part of this document has described the various developmental events that generally occur between ages 6-12. This second part presents these events in a clear and compact form, as signposts we can be on the alert for. It also provides sensible guidance on where to start, and the day-to-day things we can do to help our children thrive.
Maps are organized across the five developmental domains that have been identified for children in this age group. As noted earlier, it is important to recognize that these domains are interdependent, with changes in one area bringing about changes in others. In order to make the best use of this resource and to obtain the most accurate and dynamic understanding of child development during the middle years, these maps should be used in their entirety. Reading only one section or domain within the document will not present a complete picture of the many ways that a middle years child is growing, learning and developing during this time period.
Building on These Ideas
It is important to remember that the examples provided in these maps and the suggestions are very general, and need to be personalized. Children are unique. Parents, caregivers and other caring adults know the children in their care better than anyone, and will be able to see which suggestions apply, or can be adapted to best match a child's unique personality, interests and needs.
A great deal of change happens over the course of the middle years. There are significant differences between a 6-year-old child and a 12-year-old, and this is something we need to keep in mind when looking for the indicators discussed in the next section. Development is also experienced through cultural context and personal identity. It is important to be mindful of this when looking for developmental indicators and also in determining how to help.
Supporting First Nations, Métis and Inuit children
When supporting First Nations, Métis and Inuit children, service providers and others working with children should avoid making assumptions. Indigenous families and communities are in the best position to define their own needs and what supports they require to thrive. The right to Indigenous self-determination should also be respected by non-Indigenous service providers. For example, in designing and delivering services for Indigenous children and families, the relevant First Nations, Métis and Inuit partners should always be engaged in the design and development of that program. A crucial element of this is establishing partnerships with local Indigenous organizations and First Nations communities that represent the interests of the Indigenous communities being served. In addition, service providers and others working with Indigenous children and families should be mindful of and respect the diversity of Indigenous cultures and norms. For example, avoid generalizing a First Nations cultural practice when serving Inuit children and families and remember that there are many differences across Métis and First Nations cultures.
How the maps are organized
The maps are consistently organized across three columns, and are designed to answer three corresponding key questions you may have about key developmental events: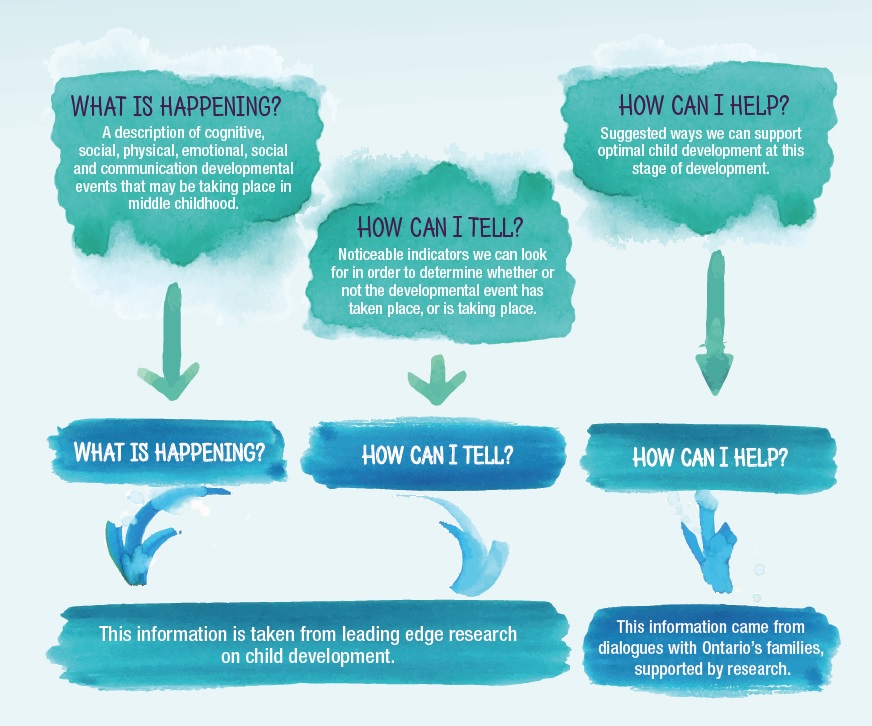 What is happening?

A description of cognitive, social, physical, emotional, social and communication developmental events that may be taking place in middle childhood.
This information is taken from leading edge research on child development.

How can I tell?

Noticeable indicators we can look for in order to determine whether or not the developmental event has taken place, or is taking place.
This information is taken from leading edge research on child development.

How can I help?

Suggested ways we can support optimal child development at this stage of development.
This information came from dialogues with Ontario's families, supported by research.