May, 2016
Listening Tours: Understanding the Obstacles that Youth Face
The Premier's Council on Youth Opportunities' (PCYO) mandate is two-fold. Primarily, the council provides advice to the Ontario government to ensure that programs and supports for youth reflect the needs of young people across the province. Youth in Ontario face multiple barriers to reach their full potential. The Ministry of Children and Youth Services has identified specific populations including Francophone, rural, newcomer, racialized, LGBTTQ, homeless, Aboriginal, low-income, and youth with disabilities as having unique circumstances, challenges and needs. As such, the second part of the council's mandate is to identify issues impacting youth who may need more targeted supports and opportunities to ensure they are able to succeed.
Even though council members have had significant lived and learned experience with these specific populations of youth facing multiple barriers, when there are millions of youth in Ontario, and only 25 council members, our experiences aren't enough. Given our mandate, and the privilege of advising several key players on policy-making, and to ensure we give the best advice possible, we needed to learn more about the realities that youth face and hear their perspectives to make sure we are effectively echoing and amplifying their voices.
To remedy this, we launched a series of "Listening Tours". We partnered with youth agencies and invited youth from the aforementioned populations to speak with us in a safe space. We asked them to share their experiences in structured discussions. Listening Tours were held in ten areas: the Greater Toronto Area (East and West), Hamilton, Windsor, Sudbury, Chatham-Kent, Centre Wellington, North Wellington/ Mapleton Township, Uxbridge, and Amherstview. In total, we heard the voices of over 400 Ontario youth.
Rural youth told stories about needing to access a homeless shelter, but having no homeless shelters in their town, young single mothers explained that while they were qualified for many jobs, these jobs were inaccessible unless they had access to affordable childcare during the day. From lack of access to transportation, to the lack of youth centres in some towns, and expensive post secondary education; we were reminded of how much work there still is to be done, and enlightened about new and existing priority areas.
As the makeup of the council changes every year, the information gathered from the listening tours will be able to help future generations of the council advise policy makers. The information will be a reminder that policy and programs need to consider the barriers - such as the cost of transportation, childcare, internet access in rural populations, among many others - faced by individual youth in accessing proposed programs and policies. We are preparing a report to the Minister of Children and Youth Services and the Premier of Ontario which will highlight the key themes we heard.
As the only daughter of immigrant parents who came to this country with next to nothing, I am fortunate to have access to education and opportunities for the future. The young people I interacted with on this tour reminded me, most of all, of my roots. They reminded me that the voice of youth facing multiple barriers may be muted, but that doesn't have to be the case. Circumstances can change, as they have for me – but access to opportunities, jobs, education, affordable transportation, and programs is essential for this. One way to increase access to opportunities is through change on a policy level. As a council, we hope to give these youth a platform where their voices can be amplified so that policies and programming reflect their needs. Youth may have a small voice right now, but with the right supports, they can have a big voice in the future.
I wish to extend a sincere thank you to the youth and adult allies; we all felt very blessed to have heard your voices, and to be welcomed into your spaces and communities. Speaking for the council, we will do our best to bring what we have heard into our advice going forward.
If you would like to get involved with the Council please email: pcyo@ontario.ca
Tina Yuan
Member, Premier's Council on Youth Opportunities
---
May, 2016
The Rural Listening Tour
I call it the grey zone, the space in-between: Rural Ontario. I grew up in rural Ontario, although my community of Centre Wellington is now referred to as a bridge community. Not quite urban, but not as rural as it once was. Don't get me wrong, the local high school is still located beside a farmer's field where you can often see corn and cows out the window, but our population is growing. Yet like many communities in the grey zone government supports are still centralized in urban centres, leaving us in this awkward in-between area. Rural youth have been identified by the Ministry of Children and Youth Services, in Stepping Up: A Strategic Framework to Help Ontario's Youth Succeed, as a population of young people with the potential to become at risk because they often "face additional difficulties in accessing services, education, training and activities such as recreation due to distance and few public transportation options. In addition, many of Ontario's rural and remote young people face the challenging decision to leave home and move to more urban areas of Ontario to seek opportunities for school and work." So by living in this grey zone and not having easy access to many government supports young people living in rural Ontario are identified as having a higher chance of becoming at risk, falling between the cracks, not living to their full potential, however you want to say it.
In the fall of 2015, I, along with fellow Council member, Tina Yuan, took on the challenge of engaging rural youth from around Ontario in both physical and virtual discussions about the challenges, benefits, and overall experience of living in rural Ontario. I say "took on the challenge", because, well, it was a challenge, engaging rural youth isn't easy. Many communities do not offer organized youth programming, or host organized youth spaces, so we couldn't just call up the local youth centre and ask to speak with their participants. Instead we had to rely on our own personal connections, word of mouth, and in some cases forge new connections. On December 1st 2015, with the help of Natricia Drummond, Andrea Faubert, and Kwaku Voss, fellow Council members, we were able to listen to 95 young people from six different areas of Ontario. These youth connected with us from: Centre Wellington, North Wellington & Mapleton, Uxbridge, Chatham-Kent & Pain Court, and Amherstview. We met with some youth at their schools, and youth centres, and others reached us virtually through Google Hangouts.
Although the young people we listened to came from diverse geographical areas, and each brought with them their own unique experiences living in rural Ontario, many of the same themes were present in all locations. The five key themes that we heard in each of our discussions were: safe space, transportation, decision making, employment, and knowledge of supports. I won't go into detail about each of these themes but will give insight into two themes, safe space, and transportation. Safe space was a common discussion point, Uxbridge being the only community we listened to with a thriving youth centre. As we listened it became apparent that there is a need for multi-use spaces, with flexible hours, that can accommodate a range of different activities. Highly important to many youth is the need for a space to have internet access, and include a mix of structured programming and drop-in time. Transportation was another common thread throughout the discussions. The issue of transportation is closely linked to all aspects of rural life, especially for young people beginning to forge independent lives outside of their family. The majority of youth listed personal methods of transportation as their main mode of getting around, this included: walking, biking, skateboarding, and family vehicles. Many participants felt that there is a need to link small communities to the larger transit systems connecting city centres such as GO transit. It was clear from what we heard that all the youth had clear ideas and opinions, not just about safe space and transportation, but about a variety of ways they could be better supported in their communities.
Tina and I felt extremely privileged to have been welcomed into a wide range of communities, and into the lives of so many amazing young people. The knowledge we gained through this Listening Tour will go on to influence the advice the Premier's Council on Youth Opportunities gives to government well into the future. The council hopes to continue building on the success of this round of Listening Tours by continuing to engage young people where they are in meaningful and beneficial ways to ensure that all young people in Ontario are supported equally by the provincial government. Lastly, I want to encourage youth from rural Ontario to apply for a seat on the council, your voice is needed to ensure that no matter how far a young person is from an urban centre they have access to the same amount of supports.
Maddy Smith
Member, Premier's Council on Youth Opportunities
---
December, 2015
Toronto Welcomes Gathering of World's Youthful Cities
As a member of the Premier's Council on Youth Opportunities, I had the privilege along with two of my colleagues to attend this year's Youthful Cities Global Summit, which was hosted for the first time in Toronto.
More than 80 youth under the age of 30 from 55 capital cities around the world — from Accra to Washington, D.C. attended.
The conference was mainly organized into three themes: Live, Work and Play. Each day of the agenda included discussions focused on specific indicators in relation to the Youthful Cities Index. The activities presented opportunities for interesting discussion and stimulating interactions with our fellow delegates.
Overall, this conference made me extremely proud and appreciative of Toronto's diversity.
As delegates arrived, the racial and geographical diversity of the room grew to truly represent the global image. I recall thinking: "This is what I grew up with [in Toronto]: this intricate combination of diversity has been my classroom in numerous dimensions since late childhood."
Hence, there was a moment of pride and enormous privilege of appreciating and embracing the fact that I had been granted the opportunity to grow and cultivate my own identity as a differently abled Chinese Canadian growing up here.
Furthermore, my participation at this conference was a reminder that there are still countless barriers in physical access to full integration and equitable participation for people with diverse abilities to feel included seamlessly in today's modern society.
Finally, as a youth under 30, I wondered whether we can truly prevail in providing justice in the integration of youth voice, preferences and values influencing our Global Cities by indicators.
To me, this conference had more depth than a rare opportunity to network and demonstrated the value in the preferences of today's youth under 30 living in global capital cities.
To me, this was an opportunity for me to rethink, and remind myself of the interconnectivity of glocal: acting locally and thinking globally in the 21st century.
For, it is the harmonious beauty of the human tapestry with all its flaws that ignites my contemplation for the meaning of global citizenship.
Crystal Chin
PCYO Member
---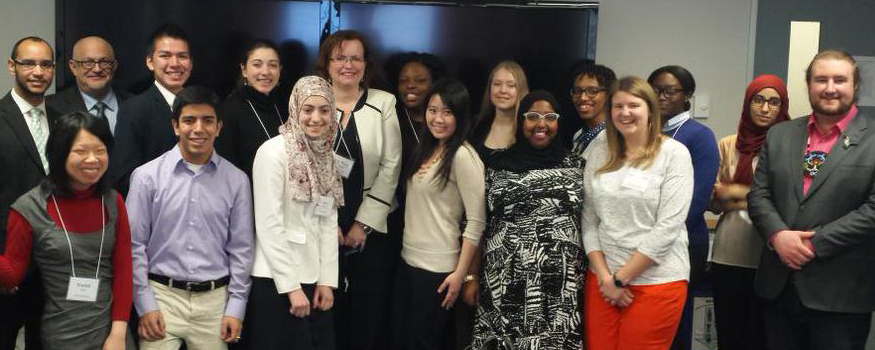 Premier's Council on Youth Opportunities
February, 2015
The Premier's Council on Youth Opportunities: A Note on Semantics
I question whether words can capture the reflection I've given to my first Premier's Council on Youth Opportunities (PCYO) meeting. However, I know for certain that I need to give the experience a voice that echoes the force that it was. The setting was expected, but I should have braced myself for the deluge of vision and depth of knowledge that animated the meeting. I welcomed this unexpected intensity and dynamism, but it was tempered by a wariness I couldn't seem to shake from the onset of my appointment. I am happy to say that an insightful conversation with a veteran member of the Council put that worry to rest.
My wariness about the influence of the Council was rooted in the tokenism so often associated with the youth demographic. I didn't want the Council to be a means to an end for the representative function of the bureaucracy. In other words, I hoped the Council was more than just an item on the checklist of the analysts from the various Ministries seeking our advice. From experience sitting on other youth councils, I knew that nearly half of the time allocated to make a case had to be spent justifying your credibility as a young person giving advice which took away from the strength of your opinion. I asked my colleague and Vice-Chair, Madeleine Ross, if this was the case for the PCYO and she made an important distinction that resonated with me. Madeleine reminded me that it was not a youth council, but a council on youth. Given my obsession with semantics, this particularity sparked my imagination.
Distinguishing the PCYO as a council on youth rather than a council of youth makes a difference. It removes any image of a bunch of kids sitting around a table presumably giving hasty and naïve advice. It replaces it with the image of a youthful table of young professionals giving substantiated advice based on their current or recent experiences. My first meeting was proof enough that young people can have a mature judgment that far surpasses some adults that I know. It is testament to the adage that we mature with the experience of our life and not with the age of our life. The advice from the Council is rooted in a number of past and present relationships each Council member has, with other young people across the Province, who are often overlooked because of their age.
Simply substituting the word on for of when labeling the Council is incredibly empowering. It is an example of the power of words that so often fuels my passion. It is, in fact, the force behind my application to sit on the Council. I wanted to challenge what the Province defined as "at-risk youth". I presented the notion that rural and francophone youth should also be viewed through the "at-risk" lens in keeping with the mandate of the Council and the various Ministries with which it will come into contact. I want to advocate for their lived experiences using the platform of the PCYO. Armed with this new outlook on the Council, that I hope everyone who comes into contact with the PCYO adopts, I am eager to dive into the work to share and hear from Ontario's youth. The inspiration that comes from the lived experiences of each person around the table speaks to the vibrancy of the youth in this Province from whom each and every one of us stands to learn a lot. The words that make up the mandate of the Council carry a lot of weight and semantically the power of those words is bolstered by my colleagues on the PCYO to create a cogent voice. I invite you to listen.
Andrea Faubert
PCYO Member
---
Premier's Council on Youth Opportunities
April, 2014
Thanks Cohort 1!
It was a long, yet productive meeting on March 16th/17th. With the council completing its first year, we said our goodbyes to the first cohort and the Chair, who reminded us of how the council came to be where it is today. It all started when a group of young people and community leaders met with the Premier to discuss bringing change, in response to a gun shooting that took place in Toronto almost two years ago.
Reflecting on our accomplishments, the PCYO was key in developing the Youth Opportunities Fund, and gave input to Stepping Up as well as the Youth Action Plan.
We help those working on emerging policies and who continue to seek our advice early on in policy development stages, so that we do not only provide advice on how to engage 'youth-at-risk', but advise on the removal of barriers that may be systematically creating risks for youth.
The two main topics discussed this month include Moving on Mental Health and reviewing the methods of research used in Ontario's Profile of Youth Wellbeing.
Although we are sad to have council members leave, the council is extremely excited to meet the 3rd cohort, and continue to plan our activities with them.
Good luck to those leaving the council on their future endeavors and thanks to all staff and cohort one members who not only helped start the council, but have paved the path with their exemplary leadership!
Lina Chaker
Member, Premier's Council on Youth Opportunities
---

Lekan Olawoye (left), chair of the PCYO, with members of the Council
September, 2013
Developing the Kingston Youth Strategy
The following is a contribution from Pytor Hodgson, member of the Premier's Council on Youth Opportunities, describing his community experience and insights in developing the Kingston Youth Strategy and Community Action Plan (the Kingston Youth Strategy).
Community matters. To young people. To adults. For community organizations and government. Community matters to me.
I am grateful to live somewhere where community is valued, strong and healthy; where the terrible disease of loneliness can be cured. Its importance is suggested in the following quote by author Kurt Vonnegut, Jr.:
"What should young people do with their lives today? Many things, obviously. But the most daring thing is to create stable communities in which the terrible disease of loneliness can be cured."
I'm equally grateful for young people in my community who have been daring, as well as brave, courageous and vocal in creating an even more stable, friendly and engaging community for themselves, their friends and adults: for all of us.
I have lived in larger centres across Canada over the years. I moved to Kingston in 2002, returning to Ontario after almost a decade in Western Canada. As soon as I settled I knew this would be home.
From my perspective as an adult, there was a strong sense of community. Though in my work with the Students Commission and Centre of Excellence for Youth Engagement (Students Commissions) at the time, what became clear was that young people often didn't feel the same. They did not feel that sense of community – the experience of it, nor could they see the structures/settings that make up a healthy community as it applied to them.
The Students Commission supported young people in developing a youth agenda that would hopefully find traction with other young people, community organizations and government. It proved very challenging.
That all changed on September 10th, when more than 100 people, including children, youth, young adults, adults and representatives from more than 25 community organizations, institutions and government came together to celebrate the unveiling of the Kingston Youth Strategy. Later that evening, Kingston City Council passed a motion endorsing the Strategy, turning the contribution of more than 3200 volunteer hours over 20 months, by a team of youth and their allies from 40 organizations, into a commitment to further their work to create a youth-friendly city.
From the first brainstorming meeting in November 2011 to the City Council motion, Y2K: Youth to Kingston, it was a demonstration of community. It brought together decision-makers and youth four times a year (as members of the Youth Adult Partnership Team) to map out/guide a process that created the Strategy.
Youth, young adults and their allies met bi-weekly (and more) as members of the ongoing planning group known as the Collaborative Action Steering Team. This was the group who executed the process: developing/conducting two surveys, organizing/leading a three-day youth forum, and taking part in special events.
In doing so, they engaged youth from every neighborhood in the city. The final Kingston Youth Strategy is the voice of these young people. It is also a call to action for organizations and government to continue to work in collaboration, to build on the youth/adult partnerships that have developed, and to enact the recommendations and action items outlined to meet the needs of Kingston youth and young adults.
My time working as the community facilitator for the Students Commission on this strategy reminded me that projects, like communities, find their heart from the people. Y2K quickly became about belonging; recognizing that everyone has a place in our community.
It became about building relationships and connections between youth, those youth and adults and organizations and between those working to support children and youth in Kingston. It was driven, not by agendas or singular visions but instead in collaboration and from a space where we all wanted the same outcome: a youth-friendly city.
There are systems and processes to gauge our success – but as a start we can feel it. It's in the heart of the project, the heart of the people and the heart of our community. One that is youth-friendly.
Pytor Hodgson
Member, Premier's Council on Youth Opportunities
Pytor Hodgson is the CEO of Three Things Consulting and has been a consultant with the Students Commission of Canada for almost 15 years on various projects from coast to coast.
---
September, 2013
The Premier's Council on Youth Opportunities Goes to Guelph
On August 15th, 2013, MCYS staff and some members of the Premier's Council on Youth Opportunities (the Council) traveled to Guelph to meet with city staff and their youth council. The purpose of the meeting was to exchange knowledge and look for potential synergies between the work being completed by the two youth-driven bodies.
The City of Guelph alongside the Guelph youth council are in the midst of implementing and reflecting on the first year of their youth strategy. The strategy outlines ten key recommendations and implementation tasks for the first year. Two key highlights of the strategy that really caught my attention were that of transportation and wellness.
Transportation barriers are something youth around the province have in common – may it be a lack of or inaccessible transportation. For Guelph, selling bus tickets in schools is seen as the critical first step of a master plan for making transportation more accessible for its young people.
Youth wellness is a foundational step when it comes to ensuring healthy youth development. The Guelph strategy recognizes the importance of young people being at their best mentally, physically and emotionally and as such will be working on a wellness campaign. The purpose of which is to increase awareness of services and tools that contribute to wellness.
As a young professional in the youth sector the issue of mental health is one that is at the core of the work I do because it intersects with every other aspect of a young person's life. Increasing awareness and understanding of the issue makes a real difference in the lives of the young people and their family who are often struggling to cope.
To date there have been some great milestones reached in the implementation of the Guelph youth strategy. This can be attributed to the fact that youth voices have been kept at the centre of the work being completed and the recognition that working with young people in this format is a process that takes time and commitment.
The young people involved with the Guelph youth council are excited about the changes they have been able to influence thus far and are looking forward to carrying out and supporting the rest of the work that needs to done over the coming years. As a Council, we look forward to continuing to support their work as we both strive to "Help Ontario's Youth Succeed".
The opportunity to meet with and hear from change-makers around the province is one the Council greatly appreciates. Kudos to the youth council and the City of Guelph for stepping up and making decisions that will positively impact the lives of young people. The Council looks forward hearing from and supporting initiatives from around the province that align with pillars outlined in "Stepping Up". Please feel free to get in touch and request a meeting with us.
Natricia Drummond
Member, Premier's Council on Youth Opportunities
---
August, 2013
Welcome!
On behalf of the Premier's Council on Youth Opportunities (the Council), I would like to extend a warm welcome to our online hub. In this space, we will be providing updates on the Council's work as well as discussing topics and issues relevant to youth across Ontario's communities.
We hope to keep these discussions open, engaging and reflective. If you would like to chime in on the conversation or have a question for the Council, I invite you to send them to our e-mail PCYO@ontario.ca.
What a busy time it has been since the Council's inauguration! We met with Premier Kathleen Wynne in March. We have met with the Honourable Teresa Piruzza, Minister of Children and Youth Services, and the Honourable Dr. Eric Hoskins, Minister of Economic Development, Trade and Employment, over the past couple of months.
We provided advice to shape the upcoming Youth Opportunities Fund, the Private Sector Jobs and Mentorship Initiative, Supports for Cross-sector Local Youth Planning and Research and Evaluation, and Ontario's Youth Jobs Strategy.
The Council also provided leadership in guiding the development of Ontario's Youth Strategy called Stepping Up: A Strategic Framework to Help Ontario's Youth Succeed, which was released on June 25, 2013. I encourage you to read this first-of-its-kind framework, as it is based on principles that guide this Council's work. These include:
Applying a positive, asset-based lens on youth development
Targeting support for those who need it most
Using meaningful youth engagement and leadership.
There are 20 key outcomes within this framework, and we encourage all our partners to help move the needle on these goals. The Council is here to represent all the young people of Ontario. But, it recognizes the need to have an intentional focus on particular populations of youth who may require additional supports to thrive. We've heard this loud and clear. Our devotion to this focus is unshakeable.
The Ministry of Children and Youth Services continues to look for youth, young professionals, front-line workers and other leaders who can speak to a diversity of lived experiences as well as cultural, linguistic and community perspectives to join the Council in the future. If you are interested in adding your voice to the Council to support Ontario's youth in reaching their full potential, please visit ontario.ca/applyforpcyo for more information on how to apply.
The Council is committed to creating equal access to opportunities for all of Ontario's young people. We invite you to stand and work with us in meeting this commitment.
Lekan Olawoye
Chair of the Premier's Council on Youth Opportunities