Likwa Nkala
Lead for the East Quadrant Youth Outreach Worker Team and Outreach and Resource Specialist; East Metro Youth Services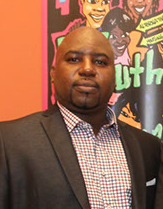 Q. What's the most challenging part of the job?
A. I would say the most challenging part is when you're not able to steer a young person away from whatever the situation is because of the environment that they're in. We've been to funerals where you sometimes feel like, is there something more that could have been done, but we try and use those opportunities where we haven't succeeded to challenge ourselves to do better with the next group of young people that are coming along because we know that they really need that positive adult ally, that role model, in their life, and so we need to be that person at times. It just makes us work harder.
Q. Have you ever had a young person come back and visit you and thank you after you've helped steer them on the right path?
A. Not just young people. Just the other day I got a call from a mother to say, "Look, remember my son...this is years ago...and he's married now and he has a kid," and it was really good to hear that story. Sometimes you're just walking down the street and you see a young person that you used to work with. The other day I was in Whitby and this young man, he's working at the store and it's like, wow, and he's talking to me about everything that's going on in his life. It's particularly gratifying when they go back to school and they do their post-secondary and you see them and they come as placement students and they want to get a placement for their internship where you work. So those times are always the best.
Q. How many young people do you estimate you've helped during your time as a youth outreach worker?
A. That's an interesting question. Definitely hundreds, directly, on a one-on-one basis. I've been fortunate to do a lot of presentations and workshops as well so that puts it into the thousands. But there have been those few where the work has been intense and has gone on over the years so maybe there's been about 20 of those where I can say we're still connected over the past seven years. Some of them are now service providers themselves, I work with them as colleagues…so I think those have been the ones that really touched my heart.
Q. What's the best piece of advice you can give youth?
A. You can do anything you want to do. The only thing stopping you is you. My job as a youth outreach worker is to give you those opportunities. I like to say to young people that it's not about lowering the bar of success for them. I would lower the starting point and make it easier for them to get in and give them the skills that they need, but once they're in there, the bar of success is still the same and they need to strive for it and achieve it.
Q. Anything else you want to tell us about your job?
A. Most rewarding job in the world. Kudos to the provincial government for supporting something like this. There's so many people, even in just the press conference we were at, people who are so interested in helping young people to succeed, I would say that social programs aren't what are going to help us; it's when people in the service system work with communities and engage communities to help themselves. That's the best thing and that's what we do as youth outreach workers.
Robyn Forster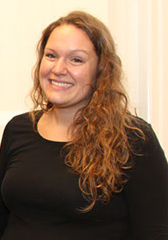 Team Lead of the Youth Outreach Worker Program, Yorktown Child and Family Centre
Q. What's the best part of the job?
A. The best part of the job is building relationships with young people and setting them on the path they want to be set on and seeing change happen and seeing positive things happen in their lives.
Q. What's the most challenging part of the job?
A. The most challenging part of the job of youth outreach worker. At times, it can be hard to connect to the young people who are the most in need and who are the most at risk, and maintaining those connections. Sometimes a young person might come to a youth outreach worker and just need one thing that one time and it could be a really big thing and then we could never see them again, so that is a difficult part of the job, to not be able to see them follow through because it's on them. It's up to them to connect back to us. We can check in, we can do those things, but sometimes it's hard to find them again. So that's certainly something challenging about the job, is that we can connect and make really meaningful relationships and then we may not see them or there are those ones who come in for that one-stop thing they really need and then again we may not see them again because they may not need our support anymore so that's a bit of a challenge.
Q. Have you ever had a young person come back and visit you and thank you after you've helped steer them on the right path?
A. Absolutely. It happens often. Especially young people who may come to us needing to get connected with job supports or get connected back in school, any of those things. They'll often come back and share with us their success stories: "You know, miss, that thing that you helped me with. You know, when you helped me write my resume and you connected me with the job person. I have a full-time job now." Or, "I got back in school. I'm on my way to my GED." Some people who we support them when they're writing their entrance letters to universities and things like that, their applications. They certainly come back and tell us, "You know, I got in! I'm starting in January," and, for us, that's it. That's the biggest successes that we can have. They often do come back and share the good things because we really try to engage them and create really strong relationships with them so that they feel that support ongoing. Some of our contacts, we have around for years. They'll always come back and tell us and we celebrate with them.
Q. What's the best piece of advice you can give youth?
A. Don't give up. There are people out there who believe in you and support you and who will be unconditional. There is always something that we can try.
Q. Anything else you want to tell us about your job?
A. Being a youth outreach worker is an everyday rewarding thing. We have a wonderful team to work with; not only in our own agency, but within the city of Toronto, within the GTA. We're really, really excited about the opportunity to enhance and just really looking forward to whatever comes our way. It's a really great job to be in and a great program to be involved in, definitely. I would encourage anyone who has that passion to be a youth outreach worker.