Positive youth development
About the youth developmental maps
An easy to use reference
In order to present the complexities of youth development in a clear and compact form, and provide you with a practical and convenient working tool, the developmental events described earlier in this section are summarized in the youth development "maps" below.
Maps are provided to describe predictable development events for youth who are in:
Early adolescence (12–14 years)
Adolescence (13–19 years)
Early adulthood (17–25 years)
Maps are organized across four developmental domains
The developmental maps are organized by developmental domain, and present:
Cognitive development (brain-based development, reasoning skills)
Emotional development (experiencing emotions, self-regulation, empathy)
Social development (identity, relationships with peers, romantic partners and family)
Physical development (physical activity, growth and physical development, body image and nutrition)
As noted earlier in this section, it is important to recognize that these domains are interconnected, and that maturation always takes place as part of the whole.
Events are "stage" rather than "age" dependent
While developmental events are also categorized into the age ranges in which they generally occur, it is important to recognize that the maps represent a sequence of developmental events more than the specific ages at which they occur. Many aspects of youth development are independent of age because they depend on exposure to opportunities and experiences. As a result, there are large individual differences in the ages at which developmental events in adolescence and early adulthood occur.
Build on these ideas
The examples presented in the developmental maps are suggestions—there are a variety of ways to support youth through these developmental stages. You know the youth you support best, so personalize the opportunities you provide for youth to meet their needs by building on these examples. Engage the youth you support to see if these ideas will work for them and come to new suggestions together.
Think creatively about how to incorporate this into your work
Information on how to best support positive youth development came from youth. As a result, youth focused on their daily interactions (for example, parents/caregivers, teachers, coaches). How often, and in what context, adult allies interact with youth differs, so regardless of the nature of your involvement in supporting youth—daily, periodically or directly—think about ways to take this advice from young people and include it in your work with youth. For those who support youth less frequently or indirectly (for example, governments, community planning tables), think about how these supports can be incorporated into the work that you do to support youth.
How the maps are organized
The maps are consistently organized across three columns, and are designed to answer three corresponding key questions you may have about key developmental events: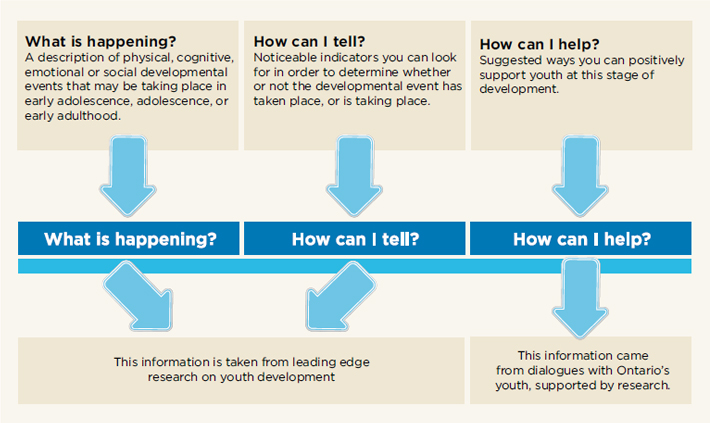 What youth want you to know: five key themes
Be supportive. Guide, don't dictate. Youth want information so they can make their own decisions
Be patient and available. Don't be discouraged if your first offer of support is turned down as youth will often come around when they feel up to it and the time is right
Be open. When they come to you, listen, listen, listen!
Be understanding. Youth learn and grow through failure and mistakes—the important issue is how youth and their support systems respond to setbacks
Be empathetic. Don't belittle the feelings of youth or be patronizing—"my feelings are real and important, even if whatever I'm going through doesn't seem like a big deal to you, it is to me right now"
In your involvement with youth—direct or indirect—be deliberate and purposeful in your actions. Every interaction with youth provides an opportunity to support their development. Supporting positive development doesn't necessarily require it's own program or agenda. It's about what we do everyday—make every interaction matter.