A message from the Youth Development Committee
We are the Youth Development Committee (YDC), 25 youth from across Ontario tasked with one very important assignment: ensuring this resource accurately reflects the voices of Ontario's youth.
As the members of the YDC, let us first assure you that we are in fact young people working with government. We come from across Ontario—from Weagamow to Windsor. Since the first time we met, developing this resource has been a journey into the rich diversity of Ontario. Each time we came together, we brought our own piece of Ontario with us: our families, friends, colleagues, neighbours, clubs, associations, communities, schools, foster homes, youth shelters, group homes, employers and our classmates; they all came with us.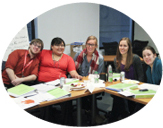 The Youth Development Committee would like to thank everyone who influenced or contributed to this resource, particularly, the youth of Ontario. This committee strived to be inclusive of every one of you. It is with YOUth in our hearts and our minds that this work was done. We thank you for enriching this process with all of your brilliant feedback and perspectives; this will ultimately lead to the success of this work.
We would also like to thank the Government of Ontario for embarking on this new, unique project. Thank you for understanding the important role youth play in youth services; for having faith in the merits of this project throughout the process; for the ongoing work with youth in Ontario; and for seeing in each of us what we could offer. A special thank you goes out to the staff project team, with whom we had the privilege of collaborating throughout this journey. We were able to laugh, grow, debate, discuss and collaborate together—your tireless work to ensure our voices were heard has inspired and encouraged us to continue our own work with youth.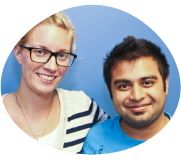 Lastly, we would like to thank each other. The YDC came together as peers, colleagues and collaborators, each representing a part of Ontario. What we learned from each other played a significant role in the formation of this resource—it also enhanced each of us personally. As our work comes to a close, we are absolutely humbled by this experience. We have been afforded a privilege that few are able to experience and for that we are exceptionally grateful.
We cannot foretell the future, but we do know that the youth of Ontario will be there, leading, learning, innovating, creating and achieving. It is with this resource we hope to help the youth of Ontario grow and achieve prosperity.
Truly and really,
Members of the Youth Development Committee