Health & Wellness
Stepping Up: The New Mentality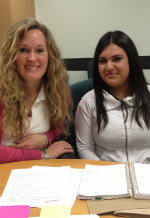 Case Study
The New Mentality is an initiative of Children's Mental Health Ontario that seeks to improve the health and wellbeing of children and youth in Ontario. The New Mentality provides opportunities for youth leadership and youth voice within mental health agencies and the system at large. The New Mentality partners with local agencies to host New Mentality Groups across the province led by youth. Together, youth leaders and their "Adult Ally" hold student conferences around their community to combat stigma, create public awareness, and share their stories of treatment and recovery.
The Halton New Mentality Group and Reach Out Centre for Kids
Over a three-year period, the Halton New Mentality Group, working in partnership with the Reach Out Centre for Kids (ROCK) published and distributed a magazine, gave presentations to schools and community groups, and initiated an annual conference to help students implement school-based mental health groups.
"In 2010, I attended my first New Mentality conference. I knew immediately I wanted to join so I could help raise awareness of mental health and stop the stigma associated with being mentally ill. As a facilitator, I have worked with such amazing people at The New Mentality and ROCK. Together, we have definitely left an impression and have initiated change in Halton. Young people who have attended one of our conferences or picked up our magazine have all said such positive things. It just goes to show that youth can make a change, be it big or small.
"The New Mentality is something I take pride in. It has made me realize that this is what I love to do and has made me want to pursue a career with youth mental health and addictions." – ROCK Youth Leader Aatayna
"The New Mentality supports youth voice in the mental health system.ROCK has been involved with The New Mentality for about five years. As an Adult Ally, I love to see the creativity, enthusiasm and energy of the young people I work with. They are all highly motivated and eager to get involved. This past fall, they worked very hard to plan a successful conference in Halton. There was a positive atmosphere at that youth conference, with everyone in the auditorium feeling connected and comfortable talking about mental health.
"The New Mentality enables us to connect with our community to have meaningful conversations about what matters." – Kelly Giuliani, ROCK Adult Ally
Outcomes #1, 2, 3
Growing up healthy and strong
In order for Ontario's young people to reach their potential, we need to engage and support them to be physically and mentally healthy, emotionally resilient and able to make positive lifestyle choices.
Health and wellness matters to young Ontarians:
A healthy lifestyle in adolescence enables cognitive, social and physical development and can lead to a healthier adult life. Youth who are emotionally resilient can build positive social skills and relationships. Healthy young people also tend to participate in a wide range of opportunities that support their development.
And it's important for Ontario:
Healthy physical, social, emotional and cognitive development allows young people to develop the skills they need to become positively engaged and contributing members of our communities. Having healthy young Ontarians will also help minimize demands on health care and canprovide long-term benefits for communities.
Snapshot of Youth Health and Wellness in Ontario.
Health care costs are rising: Ontario's health care system is facing unprecedented fiscal challenges. Economists have forecasted that without significant changes, our health care spending will consume 70 per cent of the provincial budget within 12 years.54
Twenty-five per cent of Ontario's health care costs are due to preventable illnesses. Nearly half of all cancer deaths in Ontario are related to tobacco use, diet and lack of physical activity.55
Youth could be healthier: Research suggests that today's youth will not necessarily be healthier than their parents.56 Studies show that just seven per cent of Canadian children between six and 19 years are getting a recommended hour of exercise per day.57 Health challenges such as childhood obesity increase risks for chronic issues such as hypertension, diabetes, heart disease and kidney disease.58
As youth age, they are more likely to be considered overweight or obese and less likely to report being physically fit.59 Seventy-five percent of obese children grow up to become obese adults.60
Many young people face mental health challenges: Young people between 15 and 24 years are more likely to report experiencing mental illness and/or substance use than other age groups.61 A recent study showed that the risk for mental health challenges increases between 16-17 years and 18-21 years, especially among females.62 It is estimated that 15 to 21 per cent of Ontario's youth and children are affected by a significant mental health problem or mental disorder.63
A recent study found that one-quarter of youth reported feeling depressed in the past year. One in 10 Ontario youth admitted to feeling suicidal or wanting to inflict self-harm in the past year.64
Some youth face barriers to good health: Marginalized groups – such as newcomer youth, Aboriginal youth or young people living in poverty – tend to experience a higher number of barriers to good health. Some youth living in poverty may not have access to safe drinking water, nutritious food, primary medical care, opportunities to participate in sports and recreation, a safe place to live or the same enriching life experiences as their peers. Many youth with disabilities or special needs, including those with physical, developmental, communication, learning and neuro-developmental disabilities, regularly face additional and complex health challenges.
Canadians in the lowest income group are three to four times more likely than those in the highest income group to report fair to poor mental health.65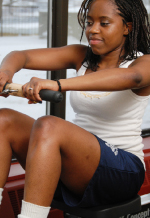 Supporting young people to be physically healthy is one of the best ways to support positive development. Good nutrition and physical activity is vital to a young person's growth, development and wellbeing. Youth who eat well and participate in regular physical activity are more productive and focused at school, and tend to have improved academic achievement. As young people age, they take on more responsibility for their health including dental care, personal hygiene and diet choices.
Important aspects of promoting physical health for young people include:
Encouraging healthy habits: Healthy habits formed early in life are key protective factors against chronic disease and lay the foundation for a healthy adult lifestyle. Regular exercise helps fuel optimal growth and supports positive pro-social activities. Research shows young people involved in activities such as team sports are more likely to have higher grades in school and to graduate from postsecondary education.66 Making healthy, nutritious food choices during adolescence is also important and supports brain development while decreasing the risk for heart disease, cancer, diabetes and obesity.67 As young people become more independent in choosing what they eat, we know they benefit from a strong awareness about nutrition and access to healthy food. Lastly, ensuring youth get enough sleep is important for them to grow and perform in daily routines. Keeping healthy sleep patterns can be challenging for youth as the physical changes associated with adolescence can cause them to feel awake late at night and have difficulty waking up in the morning. 68
It is recommended that children and youth between five and 17 years spend one hour each day doing some sort of moderate-to-vigorous form of physical activity, like riding a bike or playing basketball.69
Providing positive options: Enabling healthy choices in youth is best achieved when the healthy choice is the easy choice. Communities need to be empowered to support healthier choices where young people live, work and play.70 Creating supportive environments in communities involves many partners, including government, local agencies and organizations, businesses, urban planners, educators and individuals.
As of September 2011 school boards in Ontario are required to ensure all food and beverages sold on school premises for school purposes meet government nutrition standards. The nutrition standards apply to all food and beverages sold in schools including cafeterias, vending machines and at special events.71
Focusing on the social determinants of health: Social determinants of health refer to an individual's personal living conditions and experiences in society that impact their health and wellness. Taking social determinants into consideration can help in understanding why some young people are healthier than others. 72
In 2002, York University developed a model to identify 14 social determinants of health: Aboriginal status, Disability, Early life, Education, Employment and working conditions, Food insecurity, Health services, Gender, Housing, Income and income distribution, Race, Social exclusion, Social safety net and Unemployment and job safety.
Improving access to health care: Having access to primary, preventive health care is an important component of physical health. Although many of Ontario's young people have access to a regular primary health care provider, youth in lower-income neighbourhoods are less likely to have a regular family physician73 and often rely on Community Health Centres or walk-in clinics for their primary care. Additionally, youth in rural or remote communities may face barriers to accessing services including lack of transportation or availability of providers. Ensuring that youth regularly visit care providers, and have dental checkups, annual physicals and other paramedical services when needed, can mitigate long-term health challenges.
Outcome we want:
#1 Ontario youth are physically healthy.
How we can tell:
Proportion of youth who are a healthy weigh
Proportion of youth who are physically active
Proportion of youth who consume at least five servings of fruits or vegetables daily
Proportion of youth who did not visit a doctor in the past year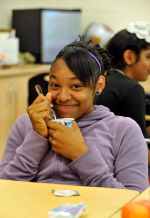 Adolescence is a time of increased vulnerability to mental health problems.74, 75 Youth face a number of transitions in different areas of their lives that can be difficult and sometimes overwhelming. For youth who face bullying, have body image challenges, or who have disabilities or special needs, this period can be especially difficult. Supporting positive mental health in adolescence can lead to better long-term life outcomes.
Components of supporting mental health include:
Supporting youth to develop resilience: Families, friends and schools all play an important role in teaching youth to identify the factors that put them at risk - such as stress, peer pressure and challenges with self-regulation. Research shows that youth who learn adaptive emotional regulation strategies are able to maintain good relationships, grades and overall wellbeing.76
In Canada, suicide is the second leading cause of death, after accidents, for young people between 10 and 34 years.77 Suicide rates increase among adolescents between 12 and 18 years. 78, 79
Suicide rates are five to seven times higher for First Nations youth than for non-Aboriginal youth.80 Suicide rates among Inuit youth are among the highest in the world, at 11 times the national average.81
Intervening early: Addressing mental illness involves recognizing the signs of emotional problems, and intervening early to reduce further risks. Despite the fact that mental health problems affect one in five young people, data from 2002 indicates that fewer than 25 per cent of children and youth with mental health problems receive specialized treatment.82Identifying mental health needs as early as possible is important to ensure youth receive high quality support.83 This involves designing and delivering services in an inclusive and accessible way.
Seventy percent of mental health issues have their onset in childhood and adolescence.84
Reducing Stigma: Many factors can contribute to mental health problems, including genetic influences, brain trauma, severe life stress, substance use, or family history.85 We know that some of Ontario's youth are more vulnerable to mental health challenges. Immigrant and refugee youth, for example, may have past experiences with trauma that requires specific intervention.86 Youth from racialized and Aboriginal communities who live with mental illness may be more likely to access services that are youth-friendly and culturally sensitive or based. Promoting awareness, equity and diversity helps to reduce stigma around mental illness and ensures that young people are able to get the support when they need it. 87
Schizophrenia is a chronic, severe mental illness that affects an estimated one out of 100 Canadians.88 Individuals with schizophrenia often experience the onset of symptoms in young adulthood – in the late teenage years for males and the mid-20s for females.89
Outcome we want:
#2 Ontario youth feel mentally well.
How we can tell:
Proportion of youth who are experiencing symptoms of anxiety/depression
Proportion of youth who are experiencing elevated psychological distress
Proportion of youth who had serious thoughts about suicide in the past year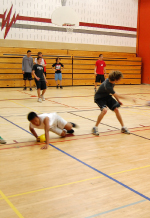 All teenagers take risks as a normal part of growing up. Curiosity and yearning for novel experiences present tremendous opportunities for positive development,90 self-exploration and growth.
Supporting youth to take healthy risks includes:
Supporting growth and independence: Supporting young people to make positive choices means helping them build on their personal strengths and try new things in safe ways. Positive, pro-social and pro-developmental risks can take the form of sports, pursuing artistic abilities, volunteer activities, travel, making new friends or simply becoming more independent. Research shows that positive risk-taking, such as travelling or working abroad, can result in social, emotional, behavioural, intellectual, and moral development in youth.91
Helping youth to see the consequences of unhealthy risks: As young people seek out new experiences, they may be introduced to unhealthy activities and unsafe behaviours. Life stress, negative influences, a lack of information, and lack of positive alternatives can increase the likelihood of youth participating in unhealthy activities (things like tanning beds, smoking, unsafe sex, drug use and driving under the influence).
Some risk-taking behaviour is influenced by age and gender – with older youth more likely to engage in unhealthy behaviours than younger youth.92 Male youth are less likely than females to perceive behaviours such as riding in a car with an impaired driver or smoking as a "great risk."93
We know that for some youth, participating in unhealthy risk-taking behaviour can lead to challenges with addiction, illness or injury. We also know a young person's ability to anticipate the long-term consequences of their actions is still developing in adolescence.94 This means that youth may need support from adults to discuss and understand the consequences of risks they take.
In 2011, about 13 per cent of young people reported in the Ontario Student Drug Use and Health Survey that they had a potential drug use problem.95
Overall teen pregnancy rates fell in Ontario by 18 per cent (from 32.1 to 26.4 per cent) between 2003 and 2010 – but some Ontario regions, especially rural and sparsely populated areas, witnessed increased rates.
Outcome we want:
#3 Ontario youth make choices that support healthy and safe development.
How we can tell:
Proportion of youth who smoke cigarettes
Proportion of youth who have recently consumed excessive alcohol
Proportion of youth who have used any illicit drug
Proportion of youth who have had a sexually transmitted infection
The Government of Ontario has a number of initiatives that support health and wellness for youth:
Community Aboriginal Recreation Activator program
Smoke-Free Ontario School-Based Tobacco Use Prevention Pilot
Open Minds, Healthy Minds: Ontario's Comprehensive Mental Health & Addictions Strategy
Announced in June 2011, the strategy aims to improve mental health and wellbeing for all Ontarians and calls for a more integrated and responsive child and youth mental health system in which we:
Provide fast access to quality services for children and youth with mental health and addictions issues and their familie
Identify children and youth with mental health and addictions needs - and intervene early
Close critical service gaps for vulnerable children and yout
Years 4+ of the Strategy will build on its success and include a focus on youth addictions.
Promoting Life-skills in Aboriginal Youth (PLAY)
PLAY is helping over 4,500 Aboriginal youth in Ontario improve their health, self-esteem and leadership skills through participation in workshops, youth-led events and intergenerational sports and activities.
First Nations communities are also benefiting when their young people participate in PLAY. Through the program, Aboriginal communities are connecting and communicating with one another at different levels. In addition, 35 full-time jobs for Community Mentors in participating communities have been created.