Civic Engagement and Youth Leadership
Stepping Up: Ontario Federation of Indian Friendship Centres
Case Study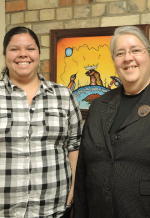 The Ontario Federation of Indian Friendship Centres (OFIFC) represents 29 Friendship Centres across Ontario. OFIFC supports Aboriginal youth-led activities that encourage equal access and participation in Canadian society and celebrates the Aboriginal culture.
OFIFC helps foster self-determination through youth leadership development in an environment that is accountable to youth. OFIFC promotes youth involvement in board governance, creates opportunities for participation in civic action and community development, and provides programs that promote education, economic development, children's and youth initiatives, and cultural awareness.
Lorena Garvey's Story
"The Friendship Centre is where I grew up. It's where I learned about ceremonies, language, and our elders. It also opened my eyes to the many challenges that exist within my Aboriginal community.
In my mid-teens, I co-founded my centre's Youth Council and attended many OFIFC youth forums. The OFIFC Youth Forums give young Aboriginal people like me a chance to use our voice in positive ways. We discuss our issues and concerns, like suicide, program funding and addictions. And we also share our successes, like graduation rates, engagement practices and our fundraising efforts.
At the age of 19, I ran for the position of Regional Representative on the Ontario Aboriginal Youth Council (OAYC). I held that position for two years. That leadership role gave me the confidence to run for an executive position and sit on the OFIFC Board of Directors. Today, I work at OFIFC and with Aboriginal youth at local Friendship Centres.
The OAYC, the board, and the staff of the OAYC are my family away from home. They support me and encourage me to go after my dreams - and that I can do whatever I put my mind to. I hope I am able to make a difference in a young person's life, just like the Friendship Centre did for me when I was growing up.
"My advice to young people is: Show up! When you show up, you get to speak. You get to plan. People begin to trust you. Others will show up, too. Yes, there will be days when it's hard to love the world. But just find the things you love and keep going. Keep your friends and family close. They keep you humble, remind you where you came from - and what you are working towards." – Lorena Garvey
Outcomes #16, 17, 18
Youth leading change
Young Ontarians have a lot to offer their communities. We know that better outcomes are achieved when youth are heard and involved. It is important to ensure that all young people in Ontario have the opportunity to learn life and leadership skills so they can be engaged, contribute to issues they care about and participate in decisions that affect them.
Civic engagement and youth leadership matters to young Ontarians:
Civically engaged young people enjoy higher self-esteem and grades, and tend to be more physically active and committed to their friends, families and communities.200 Actively engaged youth can also act as role models to their peers.
And it's important for Ontario:
Giving young people more of a voice in government, policy and decision-making builds their capacity while providing platforms for youth to lead change and take action. Youth participation broadens the discussion and enhances decisions about civic policies and programs.
Snapshot of Civic Engagement and Youth Leadership in Ontario
Ontario's young people are already engaged: Youth in Ontario volunteer at a higher rate than any other group in Canada. They have higher rates of participation in community, cultural, recreational or school-related organizations and activities than the rest of the population – and many volunteer at rates far beyond the 40 hours required to graduate high school.
Sixty-two per cent of youth between 15 and 24 years reported that they volunteered at some point in the past year, and 72 per cent said they had made a charitable donation.201
Some youth volunteer less than others: Some of Ontario's youth face barriers to volunteering. In 2010, only 43 per cent of newcomer youth between 15 and 24 years volunteered; this is 15 per cent lower than Canada's average volunteer rate.202
Young people are engaging in different ways: The Internet and social media have changed the way in which young people communicate. The more traditional forms of engagement – such as belonging to a political party, voting in an election or attending a town hall meeting – are no longer how most young people participate in their communities. Young Ontarians may feel the greatest engagement when they are directly involved in community events and have opportunities to connect with others.
Voter turnout rates among youth are lower than among adults and have declined in recent decades when compared to the historical average. Over the past four federal elections, however, youth voter turnout rates have remained relative stable.203
Young people are digitally wise: Young people rely heavily on digital technology and social media to access information and carry out social interactions.204 Digitally wise youth take advantage of social media platforms such as blogs and wikis to participate in advocacy on social issues, develop and run charities, and raise funds for causes.205 Digital technology creates powerful opportunities for youth to connect globally to complex and evolving issues, such as addressing climate change or supporting human rights.
We know that active youth participation in decision-making processes (such as through political or civic participation) is linked to improved outcomes in education, employment and overall health, as well as improved social skills and emotional development.206
Supporting young people to be heard involves:
Informing young people and others about youth rights: Young people have a right to participate in informing the decisions that affect them. We know that most young people want to be involved in decision-making and have a voice on issues that are important to them. Respecting the rights of youth also includes understanding the individual and social factors that can limit young people's participation – such as social inclusion, education, employment and lack of availability and accessibility to opportunities.207
The 1989 United Nations Convention of the Rights of the Child states that young people have a human right to be consulted about the decisions that affect their lives.208
Equipping youth voice: The more capacity young people have, the more likely they are to participate. Education equips young people with cognitive skills that support active engagement and can foster a sense of civic responsibility. Having a sense of duty is one of the most powerful incentives for turning out to vote209 and education makes a significant difference to whether young Canadians vote or not. The 2000 Canadian Election Study reveals that turnout in the youngest generation was almost 50 points higher among university graduates than it was among those who left school without a high school diploma.
Youth are less likely to vote than adults – and some young people are less likely to vote than others.210 Low turnout is found to be greatest among Aboriginal, ethnocultural and unemployed youth as well as youth with disabilities or special needs.211 Rural youth have also reported barriers to electoral participation.212
Creating opportunities for those less likely to participate: We know that some youth are less likely to use their voice in traditional ways – such as through voting – than others. Aboriginal young people, for example, may not feel engaged in provincial or federal politics but may still have ideas about how policies and programs can better serve them and their communities. By creating more and flexible mechanisms for young people to have their say, we can achieve better results and ensure that decision-makers hear from more young people.
Outcome we want:
#16 Ontario youth play a role in informing the decisions that affect them.
How we can tell:
Proportion of youth who voted in the last federal election
Proportion of youth who are unpaid members on a board or committee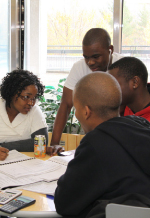 Youth engagement and youth-led initiatives provide a positive, proactive opportunity for youth to develop their identities, improve confidence, and increase their social and professional networks. Studies also indicate that when a young person is involved in their community, they engage in fewer risk-associated activities (such as alcohol consumption, smoking, drug use, unsafe sexual practices, bullying behaviour and criminal activity).213 Emotional problems, as well as problems at school, are also diminished when youth are engaged.
Supporting youth to be engaged in their communities involves:
Engaging youth in ways that work for them: To be effective, strategies to engage young people to participate and lead should reflect their availability, skills and interests. This may involve reaching out to youth at certain times of the day, or by using youth-friendly engagement tools such as social media. Young people have reported that they are more likely to take advantage of opportunities to participate in a socially inclusive environment, where they can connect with peers with shared experiences and feel safe to express their views.214
Research suggests that the time of day when we engage youth is an important factor in seeking their input. The hours between 3:30 p.m. and 6:30 p.m. are the best times to reach youth.215
Ensuring young people know about opportunities: Youth are much more likely to volunteer when they have been asked or invited to.216 Taking advantage of youth friendly communication tools – such as online media – can help ensure youth know about opportunities.Youth have identified that keeping them informed and providing opportunities for feedback and expression is effective in strengthening their engagement.217
Nurturing participatory values: We can nurture young people's sense of civic responsibility by helping them to understand their assets and the ways that they can contribute. Young people who are civically engaged and have formed volunteer habits are significantly more likely to contribute to their communities in adulthood. Research has shown that a young person's participation in initiatives such as a youth council, a community service project or a conference can help them to build a sense of civic responsibility and also improve their knowledge of civic processes and government.218
Young people who had been active in student government during their youth volunteered at a significantly higher rate than those who had not been active (62 per cent versus 45 per cent).219
Outcome we want:
#17 Ontario youth are engaged in their communities.
How we can tell:
Proportion of youth who canvassed, campaigned and fundraised as volunteer
Proportion of youth who volunteered with schools, religious organizations or community associations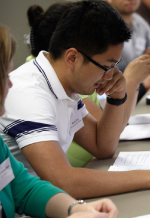 Many of Ontario's young people have ideas on how they can be better supported to succeed. Research shows that the developmental changes taking place during adolescence enable inventive and innovative thinking.220 We know that nobody is more knowledgeable about the challenges, goals and opportunities for young people than youth themselves. We also know that young people are interested in having a say and making contributions to areas of general concern to society, such as social justice, poverty and environmental sustainability.221 Youth also need to see evidence that their voices and perspectives are not only heard but incorporated into decisions that affect them.
Making the most of young people's contributions involves:
Being receptive to youth ideas: Individuals, communities and organizations should listen and respond thoughtfully to youth ideas, and collaborate with young people wherever possible to make change happen. Creating collaborative opportunities for youth to participate in decision-making in cooperation with adult allies is important to supporting long-term civic engagement and can help improve outcomes.222 This approach will help us build stronger families, better schools, more effective programs, and more integrated communities.
Studies indicate that youth in Canada are looking for more purposeful opportunities for participation. Youth have expressed that they want to be able to influence policy – not only in youth issues but also in areas important to society as a whole.223
Supporting youth-led innovation: Investing in youth-led innovation can have significant benefits for both young people and their communities. Youth-led innovation has been highlighted as an important component of building an innovation-based economy in Ontario.224 Young people have a desire to address social problems, especially those that directly impact them, but also those that affect their communities as a whole. Many young leaders are active in socially innovative projects and enterprises that work to solve long-standing social and environmental challenges through novel, collaborative approaches. Supporting youth-led innovation involves empowering more young people to lead and act as agents of social change in their communities.
Outcome we want:
#18 Ontario youth leverage their assets to address social issues.
How we can tell:
Proportion of youth who started volunteering to help a cause they personally believed in
The Government of Ontario has a number of initiatives that support civic engagement and youth leadership:
Animation culturelle
Niigan Mosewak
Walking the Path
4-H Programs
4-H is a youth development organization with 6,000 members between 10 and 21 years. Members meet with 1,700 volunteers in clubs across Ontario to develop self-confidence, a sense of responsibility, and to learn leadership, problem solving and goal setting skills.
Change The World, the Ontario Youth Volunteer Challenge
The Challenge kicks off annually during National Volunteer Week in April. Its goal is to encourage youth between 14 and 18 years to volunteer in their community and foster a lifelong commitment to volunteerism.
Youth Advocacy Training Institute (YATI)
YATI is a program of the Ontario Lung Association that provides various training programs, interactive games, learning experiences, train-it-yourself guidebooks and multimedia resources to support self-advocacy, education and positive youth development.