Civic Engagement & Youth Leadership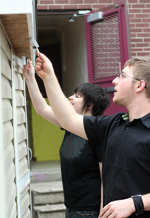 Young people have innovative ideas and diverse perspectives. When they are given the right tools and opportunities to lead, they are well positioned to make positive changes in their communities. Ontario is committed to engaging young people in decision making on policies that impact them and creating opportunities for their voices to be heard.
Outcomes #16, 17, 18
Ontario wants youth to:
Play a role in informing the decisions that affect them
Be engaged in their communities
Leverage their assets to address social issues
This year, Ontario encouraged civic engagement and leadership in young people. It supported them to get involved and created opportunities for their voices to be heard and reflected in policy-making. Its programs and policies have made progress in the following areas:
Expanding opportunities for youth engagement
Creating opportunities that encourage civic engagement
New in 2014–2015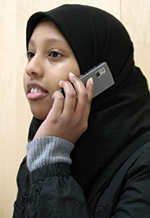 This year, Ontario enhanced opportunities to engage youth in the decisions that impact them and supported youth to be involved in their communities.
Youth-focused electoral reform encouraged civic and electoral participation.
Youth actively participated in pre-budget consultations through an online forum (budgettalks) and on Twitter (#budgettalks) created to engage Ontarians on decisions that affect them. A total of 29% of the participants were youth aged 18 to 35.
The 2015 Ontario Biodiversity Summit supported Young Leaders for Biodiversity to learn about the state of the province's biodiversity and the steps being taken to protect it.
Data from the 2015 Profile
38.2% of youth voted in the last (2011) federal election.
New in 2014–2015
This year, Ontario supported opportunities for youth to volunteer at the Pan Am/Parapan Am Games and participate in cultural events. As part of the games, programs across Ontario provided youth with occasions to connect, meet new people, develop skills, and gain experiences that will enrich their lives.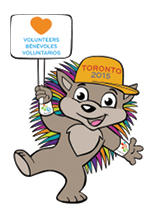 Ontario proudly selected 50 youth heroes aged 13 to 25 who have committed acts of bravery to be among the 3,000 torch bearers for the Pan Am/Parapan Am Games.
Ontario worked through the Aboriginal Leadership Partners' Aboriginal Youth Working Group and other partners to support Native Child and Family Services of Toronto (NCFST) and the Aboriginal Sports and Wellness Council of Ontario in holding Pan Am/Parapan Am–themed summer camps. These Aboriginal Community Youth Projects helped inspire passion for sport, recreation, healthy living, civic engagement and leadership programming among youth.
What the Data Says
In 2015, over 2,200 students and teachers participated in the Annual Ontario Student Leadership Conference.24
Data from the 2015 Profile
The youth volunteer rate in Ontario is 69.3%.
New in 2014–2015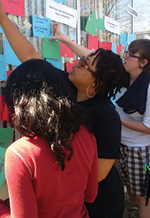 Investing in youth-led innovation creates real benefits for young people and their communities. Supporting youth-led innovation is an important way to build an innovation-based economy, address social problems and empower young people to act as agents of social change.
Data from the 2015 Profile
16.7% of youth volunteered to support a group or organization.
10.4% of youth volunteered in activities to protect the environment.
3.3% of youth participated in activities to support a political party or group.
Case Study
The London Youth Advisory Council
The London Youth Advisory Council (LYAC) is an elected youth government that represents London youth aged 15 to 25 and amplifies their voices to local politicians and civic leaders. The LYAC ensures that young people are recognized as active participants in community decision-making processes.
Youth councillors build on their existing skills by starting community development projects, opening up conversations, conducting research and advocating on behalf of their constituents. They have authored budget submissions and policy papers and have conducted public engagement sessions that have brought young voices into the policy process. The LYAC is an opportunity for young people to participate in the political process at an early age: about 100 young people in London have run for election in the last three years.
"Being involved in the LYAC has been a very empowering and humbling experience. Empowering, because it has given me a space to express my opinions and ideas as well as a confidence to do things I wouldn't normally feel I have the capacity to do. Humbling, because of the knowledge and wisdom that is shared in each of our focus groups and because of the relationships that I have built with many inspiring constituents and dedicated peers." —Nicole Worozbyt, Ward 4 Youth Councillor, the LYAC (2014–present)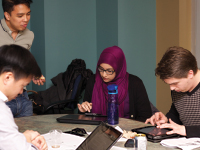 LYAC Councillors design, analyze and advocate for policies, projects and processes that reflect varying youth perspectives.