Coordinated & Youth-Friendly Communities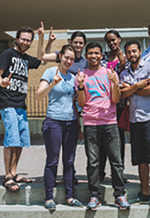 Young people are better able to achieve their full potential when individuals, organizations and communities work together to support them. Ontario must create youth-friendly communities and spaces that are accessible and inclusive, and that make the needs of young people a priority. Doing so will make youth feel more supported, connected, engaged, valued and safe.
Outcomes #19, 20
Ontario wants youth to:
Have access to safe spaces that provide quality opportunities for play and recreation
Know about and easily navigate resources in their communities
This year, Ontario encouraged youth-friendly communities by enhancing the coordination among services and promoting community collaboration. Its programs and policies have made progress in the following areas:
Reducing wait-times and improving the coordination of services for youth
Supporting organizations to collaborate, evaluate, and improve services and outcomes for youth
New in 2014–2015
Ontario focused on strengthening the youth sector to enable more organizations to support positive youth development, collaborate and provide timely, relevant and responsive services to improve outcomes for youth.
Data from the 2015 Profile
62% of parents feel recreation opportunities in their community meet their child's needs.
75.7% of youth feel there are good places in their community to spend their free time.
New in 2014–2015
Ontario improved the coordination of youth services and reduced wait-lists to help ensure services for youth are accessible and impactful.
What the Data Says
Children's Treatment Centres served more than 74,000 children and youth with special needs in 2014–15.
Data from the 2015 Profile
78% of students use social media to find information about news, health issues, or relationships.
10% of callers to 211 looking for community referrals are young people.
Case Study
The SPOT (Sudbury)
The SPOT (Supporting Potential Overtime with Teens) is a multi-functional hub serving youth in the Donovan, Flour Mill and downtown areas of Greater Sudbury. It is a safe space for teens and a central location for community partners to deliver services. The SPOT provides services to teens aged 13 to 17 that promote healthy living, arts and culture; strengthen participants' resilience; and improve quality of life. The program is free and accessible to youth five days a week. By partnering with over 15 community providers, The SPOT has offered over 70 free activities, outings, services and workshops.
"Youth describe The SPOT as one big family. Many of them feel unaccepted by other traditional social institutions, such as family or school. The SPOT represents a safe place to be truly themselves." —Natasha Lidkea, Outreach Worker, The SPOT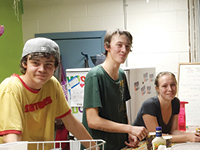 Program participants enjoy a nutritious evening snack with their friends at The SPOT.