Diversity, Social Inclusion & Safety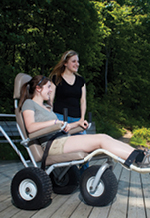 Ontario has a vibrant mix of young people with diverse strengths, needs, abilities, perspectives and experiences. To realize the potential of this diversity, the government works to ensure that Ontario is a safe, inclusive and accepting place where all our young people can thrive. When young Ontarians are safe and supported at home, school, work, online and in their communities, they can move into adulthood more successfully and can better support inclusion and diversity in their communities.
Outcomes #13, 14, 15
Ontario wants youth to:
Experience social inclusion and value diversity
Feel safe at home, at school, online and in their communities
Respect, and be respected by, the law and the justice system
This year, Ontario encouraged diversity, social inclusion and safety among young people by improving access to services, targeting supports and continuing to deliver on existing commitments. Its programs and policies have made progress in the following areas:
Creating new opportunities and promoting social inclusion and safety for young people
Targeting services to Ontario's most vulnerable young people
New in 2014–2015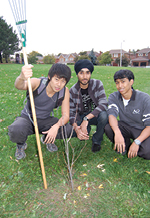 Ontario is committed to ensuring all young people have an equal opportunity to participate in society, regardless of their circumstances. This year, Ontario supported social inclusion and identified barriers for youth and their communities through various initiatives.
Ontario is working with First Nations, Métis, Inuit and urban Aboriginal partners to co-develop the first-ever Aboriginal Children and Youth Strategy. The strategy will ensure community-driven, prevention-focused, and culturally appropriate services for Aboriginal children, youth and their families. The strategy is being co-developed to improve outcomes and opportunities for Aboriginal children and youth by transforming the way programs and services are designed and delivered.

The goals of the strategy are for First Nations, Métis, Inuit, and urban Aboriginal children and youth to be healthy, happy, resilient, grounded in their cultures and languages, and thriving individuals and members of their families, communities and nations.

Through the Ontario 400th Celebrations Program, Ontario commemorated 400 years of French presence, culture and identity in the province. Projects included a school-level creative competition, Tirage400, and other programs for youth.
The Stratégie pour les apprenants du français et les nouveaux arrivant (AFENA) ("French Learners and Newcomers Strategy")supports diversity in schools.

The Parents en salle de classe ("Parents in the Classroom") initiative provides an opportunity for new Canadian parents to make classroom presentations that describe their migratory journey and give some facts about their country of origin (e.g., geography, customs, language and dialects, music and dance). This approach values all ethnocultural communities and offers students a greater awareness of the world around them. It also helps with the integration of newly arrived students.
The interactive learning goals for primary, junior, intermediate and secondary levels help francophone newcomers enrolled in French-language schools learn about Canadian society. Resources include interactive games that deal with topics such as the geography of Canada; First Nations, Métis, and Inuit cultures; the environment; volunteering; money; and bullying. These resources are accessible through a virtual learning environment (VLE).
New in 2014–2015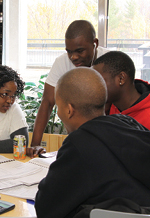 Wherever young people spend their time—at home, in school, on campus, in workplaces and online—they need to be safe. Ontario is committed to identifying and addressing the root causes of social issues that challenge this safety, such as youth crime, youth violent crime, and sexual violence and harassment.
It's Never Okay: An Action Plan to Stop Sexual Violence and Harassment is Ontario's plan to end sexual violence and harassment by changing attitudes, seeding generational change, providing more supports for survivors, and making workplaces and campuses safer.
The booklet Community Safety and Well-Being in Ontario: Booklet 2—A Snapshot of Local Voices summarizes information heard at over 30 community engagement sessions held across the province. It includes locally identified community safety and well-being challenges and promising practices, including those related to youth.
In 2014–15, Ontario reviewed the Child and Family Services Act, which included a wide-reaching public engagement process. The resulting report summarizes what was heard about the way the Act affects the lives of children, youth and their families—and how it can be improved. Ontario will continue to explore areas for change to the Act to improve outcomes for children and youth.
Data from the 2015 Profile
95.7% of youth feel safe at school.
19% of youth have been bullied online.
98% of Ontarians felt "very safe" or "safe" in their communities.
New in 2014–2015
Ontario is committed to improving outcomes for all youth who are at risk of, or have come into conflict with, the law and the youth justice system. This year, Ontario focused on programs that help youth get back on track, where necessary, and improve outcomes for youth who have come into contact with the law.
The enhanced Ontario Youth Action Plan is expanding efforts to prevent youth violence across the province. Building on the success of the 2012 Ontario Youth Action Plan and the 2006 Youth Opportunities Strategy, more high-risk youth and additional high-needs communities will benefit from targeted investments and services.

The enhanced Ontario Youth Action Plan is based on five pillars:

Best Start, Right Start—providing early and ongoing support to help young people successfully transition into their teen years
Safe Communities—laying the foundation for keeping youth and communities safe
Youth Well-Being—decreasing exposure to risk factors
Youth Engagement—addressing barriers to social inclusion and creating more positive opportunities for newcomer and Aboriginal youth
Working Together, Building on Success—working with the private sector and community providers to create new opportunities for youth

The Youth Action Plan promotes partnerships among ministries, municipalities, police, local businesses, community groups, youth leaders and Ontario families. All partners play a role in helping young people make the right choices and reach their full potential.

The expansion of the Youth Justice Family Workers program will assign more workers to families of youth in conflict with the law to support rehabilitation and reduce the risk of re-offending.
The Restorative Justice and Conflict Mediation Program is a new program that will use restorative approaches and peer mediation within a school or community setting to address conflict and/or violence. Youth will be encouraged to take accountability for their behaviour and strengthen pro-social skills. The program will provide access to community services and supports as needed through partnerships with schools, community agencies and police.
Gang Prevention/Intervention Programs are new programs to support youth who are gang-affiliated, or are at risk of becoming affiliated. Youth will be helped to leave or avoid gangs and build pro-social skills through intensive one-on-one, wrap-around supports as they reintegrate into their communities from custody. These supports will focus on education, employment and training.

The Youth Justice Outcomes Framework uses four key outcomes for youth, along with associated measures and indicators, to monitor and report on the impact of programs on the youth served.
The multi-year Strategy to Support Gang-Involved Youth is a collaborative model that focuses on challenges and builds staff and organizational capacity to address the needs of youth involved in gangs. The strategy includes expanding the pilot program Stop Now and Plan Youth Justice Model, designed by the Child Development Institute.
Data from the 2015 Profile
7% of youth engage in antisocial behaviour.
Ontario's total youth crime rate is 3,201 per 100,000 youth.
Ontario's total youth violent crime rate is 1,048 per 100,000 youth.
Case Study
The Black Experience Project
The Black Experience Project (BEP) is a ground-breaking research study that explores the lived experiences of individuals in the Greater Toronto Area (GTA) Black community. The BEP's data-collection survey covers many aspects of life such as identity, education, spirituality and experiences with the justice system. The study also looks at the different experiences of Black Canadians, immigrants and newcomers. To date, interviews have been held with people from more than 50 countries across Africa and the Americas, capturing the cultural diversity of the Black community. Youth involvement has greatly enriched the research process.
The BEP researches the challenges and contributions of members of the youth and adult Black community. It also provides youth with meaningful opportunities to develop their skills and learn about their community. Currently, 70% of the staff employed with the BEP are under 30.
Through the project, youth are trained and mentored on research and data collection, community engagement and social change. Youth also play a key role in working with media outlets to offer reflections on youth experiences in the GTA and the broader study findings. The project has also provided an avenue for Youth Community Interviewers to experience a greater connection to their community than they would otherwise have had.
"Even though I am Black, I have not been a person that is deeply involved with my community. I feel like I have been ignorant to a lot of things. Being able to hear people's stories and what they go through opens my eyes." —Tynelle Chase, BEP Community Interviewer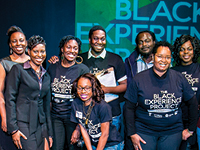 The Black Experience Project Community Meet and Greet Event