Education, Training & Apprenticeships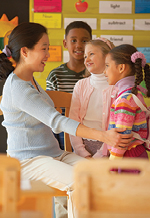 A strong education helps young people become successful, confident and informed citizens. Supportive learning environments are linked to increased student achievement, higher paying jobs, and enhanced overall well-being. Ontario focused its efforts to ensure that young people are supported in achieving their learning goals and reaching their full potential.
Outcomes #7, 8, 9
Ontario wants youth to:
Achieve academic success
Have education experiences that respond to their needs and prepare them to lead
Access diverse training and apprenticeship opportunities
This year, Ontario's programs and policies have made progress in the following areas:
Improving test scores and graduation rates
Supporting young people so they can make healthy and positive choices
Supporting diverse learning needs in a changing labour market
New in 2014–2015
In today's labour market, more jobs need young people to have postsecondary credentials. To support youth, Ontario has made getting a postsecondary education more accessible so young people can gain the skills and opportunities they need to thrive.
Ontario introduced changes to the Ontario Student Assistance Program (OSAP) to increase Ontario maximum student aid levels and index OSAP loans and debt caps annually to inflation, starting in the 2015–16 school year.
In partnership with Seneca College, a new York University–Markham Centre Campus will help an estimated 4,000 students a year pursue a postsecondary education closer to home.
Registered Education Savings Plans (RESPs) have been extended to all eligible children in care under the age of 18, as a result of the federal Universal Child Care Benefit expansion.
What the Data Says
Students who drop out can expect an income loss of more than $100,000 over their lifetime compared with individuals with a high school diploma (and no postsecondary education).15
Data Breakout
For the first time, Ontario is publishing school board level graduation rates from across the province. Giving parents, students, teachers and boards open access to this data will help inform efforts to improve students' success.
Data from the 2015 Profile
78% of English-speaking and 88% of French-speaking students completed 16 high school credits by the end of Grade 10.
84% of high school students graduate within five years.
New in 2014–2015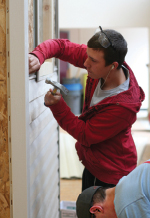 Academic success can lead to improved health and well-being across a range of areas. This year, Ontario focused on providing youth with the tools they need to succeed at school, make healthy life choices and become informed active citizens.
The Anishinabek Nation's We Are All Treaty People teachers' kit helps teachers build public awareness and promote a greater understanding of treaties across the province through new tools and resources.
The Joint Protocol for Student Achievement template, which helps collaboration between children's aid societies and school boards, was released in February 2015 with the goal of improving the educational outcomes of children and youth involved with the child welfare system.
Experience Ontario is a new pilot program designed to help recent high school graduates who are unsure of their next steps choose a career direction and an appropriate postsecondary education or training pathway (i.e., college, university or apprenticeship training).
A Youth Trades Training Centre was built in Ottawa to support youth involved with the youth justice system and those who are at risk of becoming further involved. The centre will provide trades training and skills development to help youth build the skills they need to find a meaningful career.
Pilot projects began in the South West and Toronto South Detention Centres to expand education programs and services to youth aged 18 to 25. At the Thunder Bay Correctional Centre, a pilot project is focused on updating educational materials to better respond to the learning needs of northern and Aboriginal inmates.
Fort Williams Historical Park launched educational programing to increase recreational, heritage and cultural opportunities for youth with a focus on Canada's Aboriginal culture. Programming includes:

Paddling into the Past—recreational canoeing and natural history program
Cosmic Horizons
The Wild Rice Project
Science, Math and Anishnawbe Cultural Perspectives
Interactive educational programs for students in Grades 1–12
Data from the 2015 Profile
12% of students are enrolled in the Specialist High Skills Major Program.
310,555 students have Individual Education Plans.
New in 2014–2015
Ontario is committed to providing learners with the tools they need to reach their full potential, regardless of their individual circumstances. This year, there was a focus on supporting youth who face the greatest barriers, including youth with disabilities, youth with special needs and Aboriginal youth.
What the Data Says
Data from the 2015 Profile
11.5% of youth have a postsecondary certificate or diploma.
21,588 youth were served through the Ontario Youth Apprenticeship Program.
Case Study
Mining Matters
Mining Matters is a national charitable organization dedicated to bringing knowledge and awareness about Canada's geology and mineral resources to students, educators and the public. One of its core programs, the Mining Rocks Earth Science Program, is designed to illustrate real-life experience with earth science, mineral exploration and mining.
Mining Matters educates youth aged 9 to 17 about the mineral sector, including key environmental, economic, and social issues associated with resource development. It provides youth with information on employment opportunities and the necessary education to work in the sector. It also provides career guidance and mentoring opportunities.
Programs are delivered in First Nations communities across Northern Ontario. In 2015–16, Mining Matters will also offer sessions to Aboriginal, non-Aboriginal and francophone youth in the Hearst to Cochrane corridor.
"My favourite activity was doing the cookie mining because it was kind of like math." — A 15-year-old Grade 8 female student in Webequie First Nation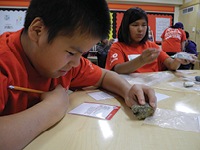 Mining Matters students from Aroland First Nation complete the Product-Matching Game with graphite