Employment & Entrepreneurship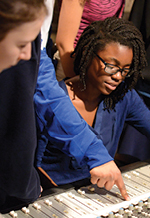 Starting a new business or rewarding job helps young people build their sense of identity, connects them to new people and places, and allows them to develop lifelong skills. Employed young people can better contribute to their families and their own well-being and can reduce the economic costs related to unemployment and poverty. Ontario's workforce and job market continue to change. Ontario has focused on developing innovative strategies to ensure young people can access employment in a competitive economy. It has also sought to help employers and qualified candidates connect.
Outcomes #10, 11, 12
Ontario wants youth to:
Have opportunities for meaningful employment experiences
Have the skills and resources needed to develop a successful career or business
Be safe and supported at work
This year, Ontario supported young people to have safe and meaningful employment and entrepreneurship opportunities by creating new programs and expanding on existing strategies. Its programs and policies have made progress in the following areas:
Connecting cross-sector partners to create opportunities for youth to develop the right skills and access a changing labour market
Creating more employment and entrepreneurship opportunities, particularly for vulnerable youth
Engaging youth to ensure they are safe and supported at work
New in 2014–2015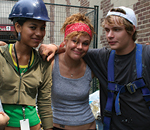 Employment increases access to resources and can improve well-being and life outcomes for youth. This year, Ontario carried out strategies to create jobs, train youth with appropriate skills and help job seekers and employers connect. The government also developed new supports for youth who face the greatest barriers to accessing employment.
What the Data Says
Studies suggest that seven out of 10 new jobs are expected to require postsecondary education or training.20
85% of youth who participated in the Youth Employment Fund have either been hired or gone on to further employment.21
Data from the 2015 Profile
61.9% of youth are in the labour force.
9.5% of youth are not in education, employment or training.
88.6% of youth who are employed full-time are in work related to their field.
New in 2014–2015
Ontario's economy, workforce and job market continues to change. As a result, the government is working to remove skills barriers, encourage entrepreneurship, and help youth to lead in innovation, and generate new ideas and perspectives. This year, Ontario supported opportunities for youth to develop the skills they will need in a changing economy.
The Private Sector Jobs and Mentorship Initiative convened partners in the Greater Toronto Area (GTA) and Hamilton Area to begin work on the recommendations of the Escalator: Jobs for Youth Facing Barriers report that support employment for high-risk youth. The Escalator initiative provides technical skills, internships and mentoring through NPower's Technology Service Corps program. It is being expanded provincewide as part of the enhanced Youth Action Plan.
The Mining Essentials program, developed by the Mining Industry Human Resources Council, is now being delivered in French and English. The program provides hands-on experience relevant to the mining industry to Aboriginal peoples, while incorporating Aboriginal cultures and traditions.
The Ministry of Northern Development and Mines' Northern Ontario Internship Program is a pilot program for recent postsecondary graduates. It supports training and work experience in a variety of sectors in Northern Ontario.
A new initiative of the Ontario Chamber of Commerce, the Abilities Connect Fund, creates experiential employment and training opportunities for postsecondary students and recent graduates with disabilities. It also helps remove financial barriers associated with providing workplace accommodations for employees.
The development of a Supported Employment Demonstration for young people with Autism Spectrum Disorder (ASD) involved consultation with experts, researchers and service providers. This two-year Demonstration focuses on assisting young people with ASD aged 14 to 30 get and keep paid employment.
The Employment and Modernization Fund offers financial support for projects that promote greater inclusion and independence for youth and individuals with developmental disabilities.
Summer Company gives students aged 15 to 29 hands-on business training, mentoring and grants of up to $3,000 to start and run their own summer business. Participants get to keep the profits made through the operation of their businesses.
What the Data Says
Almost one in five new jobs in Ontario over this decade is expected to be in trades-related occupations.22
Youth that show entrepreneurial behaviour are 1.5 times more likely to have received training in starting a business.23
Data from the 2015 Profile
1.7% of youth are self-employed.
New in 2014–2015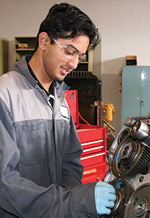 Young workers are often vulnerable workers. They are often employed in non-standard jobs such as temporary and part-time positions. They may hold service-sector jobs or internships. They may earn only the minimum wage. They may have the minimum amount of training needed to operate heavy equipment. This year, the government continued to work with employers to ensure all young workers are safe, qualified and prepared for employment in diverse areas.
Data from the 2015 Profile
The annual Workplace Safety and Insurance Board (WSIB) Lost-Time Injury (LTI) rate for youth employees was 0.93 per 100 workers in 2014.
Case Study
Hospitality Workers Training Centre
The Hospitality Workers Training Centre (HWTC) is a non-profit organization that provides hands-on vocational training for employment in Toronto's growing hospitality industry. Training is linked to real employment needs identified by hospitality industry partners. Between 30 to 50% of the participants in the program are under the age of 30. Over 70% of participants are racialized and/or from low-income families. Participants include refugee and LGBTQ youth. A full 90% of youth in the program receive social assistance.
HWTC works with community partners across the GTA to identify, recruit and train strong candidates. It also works closely with industry partners to connect pre-screened and trained talent with the right employer. To support ongoing success, the program offers post-employment services. Those services include career development, vocational cross-training (to help students grow their careers in the sector), supervisory soft skills, English, computer skills and financial planning. With an 80% placement rate and a 70% retention rate among at-risk youth, this program is doing great work!
"I love being a houseman... I'm always on the move. It's given me a purpose and a future." — Andre, graduate of the Hospitality Workers Training Centre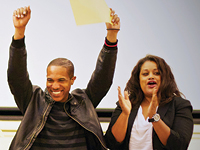 The Hospitality Workers Training Centre celebrates the graduation and achievements of its students.