Themes of Youth Wellbeing
Health & Wellness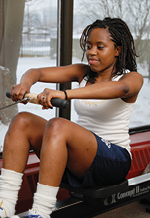 Ontario wants all young people to be happy, physically healthy, emotionally resilient and able to make positive life choices. Healthy young people are better equipped to learn, develop and build the skills they need to succeed as adults. They also have a lower risk of chronic disease and illness, which can reduce demands on health care. Through early identification of illness and by giving support, the long-term health and wellness of young people can be enhanced.
Outcomes #1, 2, 3
Ontario wants youth to:
Be physically healthy
Feel mentally well
Make choices that support healthy and safe development
This year, Ontario encouraged young people to be healthy and well by focusing on getting kids active, expanding mental health supports and reducing unhealthy choices. Its programs and policies have made progress in the following areas:
Increasing opportunities for kids to get active
Expanding access to mental health services
Promoting well-being and healthy eating
Protecting young people and helping families make healthier choices
New in 2014–2015
This year, Ontario continued to create opportunities for young people to get active and form healthy habits. Supporting youth health and well-being also involves recognizing that some young people need more assistance than others.
Ontario invested $13.5 million in the After-School Program. This program helps more than 130 service providers give more than 21,000 children and youth the opportunity to participate in sport and recreation activities and learn about healthy habits.
The 60 Minutes of Physical Activity Initiative helps children and youth get 60 minutes of physical activity a day. Pilot sites were established to help identify factors that create access to and opportunity for physical activity during the school day.
Forty-five communities are participating in the Healthy Kids Community Challenge. These communities are receiving funding, tools and training to deliver locally run programs and activities that focus on healthy eating and physical activity.
Ontario invested $10 million in the Aboriginal Healing and Wellness Strategy (AHWS). AHWS programs and services are guided by the medicine wheel, the life cycle and healing continuum, and traditional teachings. AHWS supports a residential treatment centre that helps Aboriginal youth with addiction problems. With the enhanced funding, the government's total investment committed to AHWS by 2015–16 has increased to $47.5 million.
The Student Nutrition Program will roll out to 63 First Nations communities over the next two school years (2015–16 and 2016–17), with ongoing funding to be provided.
Ontario provided support to the organization Right to Play for the Promoting Life-skills in Aboriginal Youth (PLAY) program. PLAY helps Aboriginal youth improve their health, self-esteem and leadership skills through regular, weekly participation in sport and recreation activities year-round. In 2014–15, over 3,500 children and youth participated regularly in PLAY, and almost 14,000 community members participated in youth and community-led initiatives that encourage positive community-driven change.
What the Data Says
In 2004, an estimated 41% of Canadian youth of Aboriginal descent were considered overweight or obese, which is approximately 2.5 times higher than the national average.3
In children and youth, physical activity aids in promoting healthy growth and development, improves mental health by reducing stress, and increases self-esteem and physical competence.4
Many studies show that children and youth who exercise at school see significant boosts in both mathematics and language test scores.5
During the 2013–14 school year, Ontario's Student Nutrition Program helped provide nutritious breakfasts, snacks and lunches to over 756,000 schoolage children and youth across over 4,450 programs.
Data from the 2015 Profile
76.7% of youth are a healthy weight.
68% of youth are physically active.
41.3% of youth consume at least five servings of fruits or vegetables daily.
New in 2014–2015
Ontario supported young people to feel mentally well by identifying risk factors early and supporting young people to develop the skills they need to deal with challenges as they happen. This year, Ontario expanded services to promote awareness, reduce stigma and ensure more youth get the support they need.
Ontario is moving forward on the next phase of the government's Comprehensive Mental Health and Addictions Strategy. This phase focuses on supporting the transition between youth and adult services and improving the quality of services. It includes reducing wait-times; providing more supportive housing spaces; improving supports for youth with eating disorders; and working to increase awareness, fight stigma, and promote mental health in schools and the workplace. Other aspects of the strategy are as follows:
What the Data Says
70% of mental health and addiction issues start when people are young.6
Data from the 2015 Profile
6% of youth are experiencing anxiety and/or depression.
26% of youth are experiencing elevated psychological distress.
13.4% of youth had serious thoughts about suicide in the past year.
New in 2014–2015
Young people learn as they try new things and take risks. This year, Ontario helped young people make healthy choices and avoid harmful risks by changing the laws and practices relating to physical and sexual health, tobacco, e-cigarettes and food choices.
What the Data Says
Approximately 12% of high school students smoke, and 18% have smoked in the past 30 days. Of those who used any tobacco product, 50% reported using flavoured tobacco products. One in four Ontario high school students has smoked menthol cigarettes in the last 30 days.7
Each year, tobacco claims more than 13,000 lives in Ontario— equivalent to 36 lives every day.8
The World Health Organization has found that providing kids with comprehensive sexual health information helps prevent early sexual activity and negative health outcomes.9
Data from the 2015 Profile
8.5% of youth smoke cigarettes.
19.8% of youth have recently consumed excessive alcohol.
30.7% of youth have used any illicit drug.
2.6% of youth have had a sexually transmitted infection.
Case Study
YouthNet/RéseauAdo
YouthNet/RéseauAdo (YNRA) is a bilingual mental health promotion and intervention program of the Children's Hospital of Eastern Ontario. Research suggests that youth are much more likely to talk to peers than to adults about mental health. For this reason, YNRA offers support services using a peer-to-peer model. Youth facilitators aged 20 to 30 create an open, non-judgmental space for youth to engage in healthy dialogue about mental health.
YNRA aims to build resilience in young people by demonstrating healthy stress-coping strategies while decreasing the stigma surrounding mental illness and its treatment. Embracing a youth engagement philosophy, YNRA is informed by a Youth Advisory Committee. The committee both develops youth-relevant programming and advocates for youth to service providers, families, policy-makers and systems-level decision makers. This industry-leading youth engagement program benefits young people by giving them the voice they deserve in their own health care.
"YouthNet has changed a lot in my life. For me, it's a space where I can feel safe and comfortable being myself. It's also a way for me to contribute to [breaking] mental health stigma." —YouthNet Youth Advisory Committee Member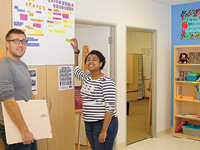 Youth-adult partnership is key to creating safe, inviting spaces for young people to help one another maintain good mental health.