Strong, Supportive Friends and Families
Stepping Up: Big Brothers and Big Sisters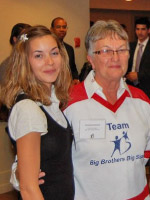 Case Study
Big Brothers Big Sisters is a not-for-profit organization that provides mentors to children and youth in need of additional positive adult support. Mentors serve as role models, teaching by example the importance of giving back, staying in school, and building positive relationships with family, friends and community. Each time a young person is paired with a mentor, they are supported to grow into a successful, thriving member of their community. It's something the staff, volunteers and donors of Big Brothers Big Sisters help bring about every day with pride.
Ashley Boudreau's Story...
"In Grade 3, I had a wonderful teacher named Mrs. Halls. Not only was she a caring, wonderful and patient teacher, she taught me how to read and write despite my learning disability. When Mrs. Halls took a job at a different school, I was sad because I wasn't going to see her anymore. My sadness was replaced with utter joy when I received a call from Big Sisters - informing me that I had been matched with Mrs. Halls as a mentor. I will never forget that day. Someone chose me and advocated for me, and has continued to do so ever since.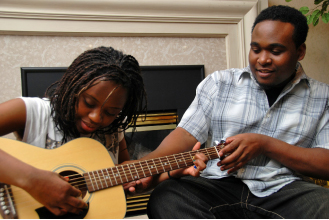 "I spent my summers picking strawberries, doing crafts, singing songs, going to Canada's Wonderland, and chatting about anything on my mind. I was even given the opportunity to go to camp through Big Sisters. I finished high school and soon after decided to attend college for Nursing. I was 18 years old, legally an adult, and Big Sisters kept me under their wing. They provided me with financial support on several occasions and moral support and always ensured that I was doing well.
"Big Sisters is not just an organization, it was my family. A family that gave me more than my own family was capable of giving me. I know I am not just a Little Sister. I am strong. I am deserving of all things in life. I am unconditionally loved and supported. Big Sisters gave me more than a friend once a week for few hours; they gave me a life that I otherwise wouldn't have. It is easy to say that I would not be who I am today or where I am today without Big Sisters." – Ashley Boudreau
Outcomes #4, 5, 6
Supporting young Ontarians to grow and thrive
The evidence is clear: young people need adults in their lives who care about them, encourage them and believe in them. All young Ontarians should have caring families and adults to turn to when they need guidance - and those adults should have the resources needed to support youth.
Friends and Families matter to young Ontarians:
Studies show that youth who are supported by at least one consistent, caring adult have an easier time developing their identity, empathizing and regulating their emotions.96 Having positive, accepting peer relationships also supports their development.
And they're important for Ontario:
Young people who have access to caring adults and peers have the strong, supportive foundation they need to believe in themselves, pursue positive opportunities and contribute to their communities.
Snapshot of Young People's Friends and Families in Ontario
The Ontario family is changing: The definition of family in Ontario has evolved in recent generations. Family housholds in Ontario include those who live alone, single parents, re-married couples, parents in different households, step-children and step-siblings, friends, foster parents, grandparents, extended families and same-sex partners. Married-couple families have decreased over time, while common-law couples quadrupled between 1981 and 2011.97 Family size has shrunk over time, with an average of 2.9 people per family.98 Increasingly more young adults are still living at home.
Statistics Canada reports that the number of one-parent families has steadily increased over the last 25 years to one in four Canadian families in 2006.99
Families are spending less time together: Many families have one parent at home; others may have two parents working full time. Some parents hold more than one job, or work long hours. Young people are busy, too. They are often engaged in a variety of activities in their schools and communities. All these factors make it much more challenging for families to spend quality time together.
A 2007 UNICEF study found that Canada ranked 18th of 25 countries for young people "eating main meals as a family several times a week," and 23rd of 25 on "having a conversation with a parent several times a week."100
Young people interact with others in new ways: Technology continues to change the way young people interact with friends and family.Ninety-seven per cent of Canadian youth between 12 and 17 years report texting at least weekly to communicate with people in their lives, including their parents.101 Nearly 60 per cent of all teens send and receive text messages with friends daily.102
Canadian youth, aged 18 to 24, spend more time and visit more pages on social networking sites than any other age group. Children and youth up to 24 years account for a third of all videos watched online in Canada.103
We know that parents and guardians play a primary role in the healthy development of young people.
Important aspects of the role of parents and guardians for young people include:
Supporting them so they are equipped to provide basic needs: Young people rely on parents, extended family and caregivers to provide safe places to live and healthy food to eat. As youth age and begin to enter the workforce, they begin to be able to provide for themselves, but many still count on support from family. We know that for some families, providing basic necessities is not always easy. Low-income families may be worried about their ability to make ends meet. Families of young people with complex disabilities or special needs may face additional challenges providing them with the extra support they need. Families living in rural and remote communities may have difficulty finding and affording good quality housing options.
Affordable and safe housing is fundamental for families working to provide basic needs to their children and youth. Having a stable and affordable home is a foundation to gaining meaningful employment, raising kids, and developing stronger communities.
As of 2006, more than one in 10 young people lived in low-income families.104
Building their capacity to promote positive development: Parents and guardians have a primary influence on young people's attitudes towards school, learning and future success. Studies have shown that young people with supportive parents, schools and communities - whatever their income or background - are more likely to earn higher grades, have a stronger sense of identity and self-efficacy, and have an easier time empathizing and regulating their emotions.105 In addition, parents and guardians teach young people many important life skills - such as how to resolve conflicts, open a bank account, write a resumé, or do the laundry - which support them in navigating a range of life experiences.
Newcomer parents and guardians may need extra support to understand and connect with the environment in which their youth are growing up. Best practices recommend that parents become involved with their youth's learning, so that the entire family can be engaged in the cultural exchange. Parental involvement breaks down the cultural barriers, and helps them recognize and accept the society in which their youth develop.106
A large majority of Ontario students between grades 7 and 12 report getting along very well with their parents.107
Helping them to find additional support when it is needed: Parents and caring adults are usually the first to notice any issues in the life of a young person - and are the first line of support when they are in trouble or need a tough question answered. Providing parents with a clear way to get information helps ensure that youth get the help they need. In addition, providing parents of youth with opportunities to receive help themselves (such as through counseling for at-risk parents and families, or respite services for families of youth with disabilities or special needs) can ensure that they have the tools and capacity to be better role models.
We know that sometimes families experience complex challenges and sometimes they break down. Helping at-risk youth who are vulnerable due to challenges with their parents or guardians to find support is important. This will ensure they are able to successfully transition to adulthood.
On any given night in the City of Toronto, it is estimated that approximately 1,500 – 2,000 young people are homeless.108
Outcome we want:
#4 Ontario youth have families and guardians equipped to help them thrive.
How we can tell:
Proportion of families who live in deep poverty and are struggling to afford housing
Proportion of caregivers who can't afford to feed their families balanced meals
Proportion of children and youth who live in low-income households
We know that all Ontario youth need at least one single, consistent, supportive, caring adult in their lives. The relationships youth build with adult and peer role models can play an important role in determining their choices in the future. Mentors can help build skills and increase a young person's self-efficacy, build morals and positive values, set attainable goals, and provide direction in achieving their goals.
Supporting young people's relationships with caring adults involves:
Increasing access to caring adults: Many young people are able to find role models in their homes or through their personal networks, social groups, or activities, but we know that this not always the case. Some young people may not have available parents, guardians or extended family to turn to, or may prefer to turn to other adults who provide a mentoring role different from their mothers and fathers. These youth may find role models through their broader communities, schools and workplaces, perhaps a teacher, employer, counselor, program provider or friend.
Evidence shows that all youth, whether they are at-risk or not, benefit from having a mentoring relationship with a non-parent adult.109 Establishing and maintaining a relationship with a mentor has been shown to support positive development for youth who don't have strong relationships with other adults.110 Both personal mentors and mentorship programs for at-risk youth have been found to improve outcomes.111 Studies of mentoring programs have found that mentors from a similar social background are often most successful in supporting at-risk youth.112
In its final report, the Youth Leaving Care Working Group highlighted the importance of Youth in and leaving care having access to peer-mentors who have been in care or adult mentors from the community through formalized mentoring organizations that meet their individualized needs.113
A recent study by the Centre for Addiction and Mental Health found that young girls with a mentor were four times less likely to bully, fight, lie or express anger than girls without a mentor.114
Building the capacity of caring adults to better support youth: Adult allies and mentors benefit from having a strong understanding of the developmental needs of young people, and access to resources that help them make the most of their relationships. Studies show that providing realistic expectations, screening, high-quality training, and ongoing monitoring and support for mentors are best practices to increase the effectiveness of mentorships.115 Adult allies need to listen effectively to youth voicing their needs and concerns, in order to support youth in the appropriate manner. Creating a safe space for youth to express themselves is a common first-step. Allies need to recognize the impact that they and other adults, including parents, have in the safe space.116
Adult allies have been described having the following characteristics: Accepting youth as partners and meaningful participants; Creating a space for youth to feel comfortable and respected; Using youth-friendly and accessible language; Not assuming that youth only know about "youth issues"; Including youth in decision-making; and Actively listening to youth. 117 118
Outcome we want:
#5 Ontario youth have at least one consistent, caring adult in their lives.
How we can tell:
Proportion of youth who have at least one parent who usually knows where they are
Proportion of youth who do not get along with their mother
Proportion of youth who do not get along with their fathers
Developing a sense of self-identity and gaining the skills necessary to form healthy and close relationships is a key part of adolescence. As a result, friends play an important role in a young person's life.
Components of supporting positive relationships and friendships include:
Providing spaces and opportunities for youth to interact in positive ways: Having positive, trusting relationships with friends supports young people to develop their social identity, learn how to form and maintain healthy relationships, and gain independence from their families and caregivers. Supporting these relationships involves providing positive, pro-social opportunities for young people to connect in safe environments. Safe places for young people to go can include community hubs, drop-in centres, recreation facilities, libraries, and many other public areas that are inviting and accepting of young people.
Friends often play an important role in motivating young people to study harder in school, volunteer for community and social services, and participate in sports and other productive endeavours.
Helping youth to develop pro-social relationships and interpersonal skills: Young people often place strong value on input from their peers. They identify their friends as being important influences on their identity. Despite the importance of these bonds, not all young people have strong skills and healthy approaches to their relationships. Youth living with disabilities or special needs, such as young people with Autism Spectrum Disorder, may face additional barriers to developing positive relationships with peers. Encouraging healthy boundaries and skills can be challenging as technology now enables young people to be in constant communication with their peers across more environments than in the past. Young people can learn social skills and adopt healthy attitudes toward relationships through positive experiences and role models.
Outcome we want:
#6 Ontario youth form and maintain healthy, close relationships.
How we can tell:
Proportion of youth who feel lonely
Proportion of youth who have someone they are comfortable talking to about problems
Proportion of youth who have family and friends who help them feel safe, secure and happy
The Government of Ontario has a number of initiatives that encourage strong, supportive friends and families:
Tools and Resources for Parents and School Leaders
Youth Leaving Care Strategy
The Ontario government released the Blueprint for Fundamental Change report in 2013, in partnership with the Office of the Provincial Advocate for Children and Youth. The report details how youth living in the care of children's aid societies can be better supported to succeed. In response, Ontario has: increased the minimum financial support for youth in care aged 18 to 21; provided a monthly $500 allowance for youth aged 21 to 25 previously in care and enrolled in OSAP-eligible education or training programs; enhanced caregiver training; and funded 50 new youth-in-transition workers and mentorship opportunities.
Child Care Respite
The Government of Ontario funds respite programs for families of children with disabilities or special needs who need a temporary break from the physical and emotional demands involved in the day-to-day care of their child. The Out-of-Home Respite program provides up to seven days of respite per year for families of a child with multiple disabilities or special needs. Enhanced Respite Funding grants are also available for families of a child who is medically fragile and/or on a technological device 24 hours a day, 365 days a year.